The Deli also raised over $4,000 for the nonprofit K9s for Warriors
ATASCADERO — This year, Colony Market & Deli celebrated the military on Veterans Day by donating free sandwiches to both active military and veterans all day long.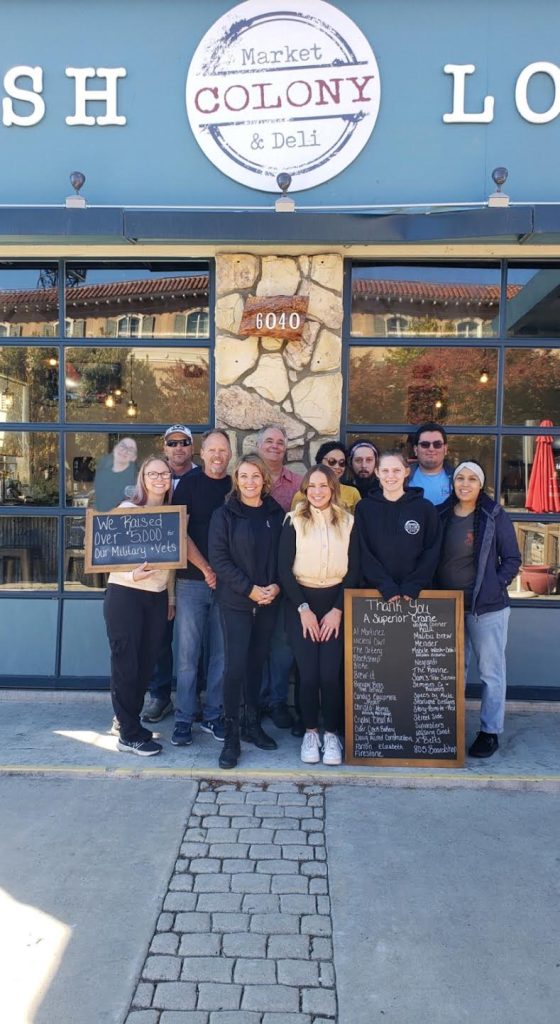 "We gave away over $1,000 in sandwiches. It was just so cool," said owner Joanna Wemple.
The whole idea came about when Kristina Newby, who works for the deli and volunteers with local vets, came up with the idea to give out sandwiches on Veterans Day.
advertisement

"We are always wanting to support our military, and we have friends who are in the military, and when she came with the idea, we were like, 'yeah, absolutely.' We didn't know it would turn into such a big thing," added Wemple, whose dad was a World War II veteran.
In addition to the free sandwiches, Colony Market & Deli also hosted a raffle during the day, which included donations from over 30 businesses and individuals in Atascadero and surrounding areas. Including a skateboard from 805 Boardshop, a Gibson Electric Guitar from Al Martinez, and 100 ice cream cups from Negranti Creamery.
The money raised by the raffle went directly to K9s for Warriors, a nationwide non-profit that rescues dogs from shelters, trains them, and then pairs them with a warrior with PTSD.
"All of that, from the raffle and from what everybody gave us, raised over $4,000," added Wemple. "What happened was that K9s for Warriors was doing matching dollars. So, we raised over $2,000, and then they matched it."
In total, over $5,000 was donated to veterans and active military by the deli and its patrons.
"It was so amazing and what was really cool is that it was about the people that are actively serving us or have served," Wemple stated. "It was really just to honor all these people. It was just such a beautiful thing."
She went on to say that multiple people from the community came in and bought 20 or so beers for veterans and asked the deli to give them out throughout the day.
"It was just such a cool community [event], and people just really showed their respect for what the military does for us," she added.
To add to the atmosphere, Newby bought a 30-foot American flag and asked her friend Damon, owner of A Superior Crane, to hoist it above Colony Market & Deli on one of his cranes. As a result, you could see the flag from most of downtown and even the freeway.
"It was such a great, positive thing — a great, positive day," Wemple said. "We will definitely do it again next year. I felt honored to be able to support the veterans."