Surprising names as well as an independent streak has characterized SLO International Film Festival films for more than a quarter century now
The 26th Annual San Luis Obispo International Film Festival (March 17-22) has revealed the films selected this year for the George Sidney Independent Film Competition sections. They comprise 10 narrative features and 20 documentary features, 22 narrative short films, and 10 documentary shorts. Representing 18 countries, the films include some surprising names as well as the independent streak that has characterized SLO Film Fest films for more than a quarter century now.
"While our galas, special events and screenings, including Surf Nite, and the annual presentation of the King Vidor Award are always can't miss affairs, the core of the film festival will always be our competition films. They represent the heart of the SLO Film Fest," said San Luis Obispo Film Festival Director Wendy Eidson. "We look forward to presenting these films to movie lovers here in San Luis Obispo, and seeing which films and filmmakers take this year's awards home."
Highlights among the narrative competition include; Hans Petter Moland's OUT STEALING HORSES, Norway's official Oscar entry stars Stellan Skarsgård (recent Golden Globe winner for Chernobyl) about a widower looking back on a fabled childhood summer in the late 40s when he and his father rode wild horses; Danish Renzu's THE ILLEGAL starring Suraj Sharma LIFE OF PI) as a film student in Los Angeles; Ron Vignone's award-winning drama TWO WAYS HOME about a bi-polar woman's attempt to get your life back on track and reclaim her family following a stint in jail. The film was a winner at the Awareness FF, Marina del Rey FF, and the Women Texas Film Festival. Gille Klabin's mindbender THE WAVE is about a man dealing with the effects of a mysterious hallucinogenic drug, stars Justin Long (TUSK, LIVE FREE OR DIE HARD) and Donald Faison ("Scrubs," CLUELESS), and features incredible visual effects by SLO native, Patrick Lawler.
Wide-ranging topics and subjects in the documentary competition include; immigration – via Beth and George Gage's A HOME CALLLED NEBRASKA, which looks at how that state approached bringing in more refugees per capita than any other state in 2016; "asshole culture" – via John Walker's ASSHOLES: A THEORY, inspired by Aaron James' New York Times bestseller of the same name; the history between Iran and America – via Taghi Amirani's COUP 53, which unearths never seen footage during the CIA's overthrow of the Iranian government in 1953; iconic photographers Tony Vaccaro and Santi Visalli – via Andrew Davis's MENTORS: TONY & SANTI, a charming portrait of friendship and history of the two men who captured some of our most familiar images since WWII; and the perilous status of our bees – via Peter Nelson's THE POLLINATORS, which looks at the threats to honey bees and what that means to our food security; and Nancy Lang and Peter Raymont's MARGARET ATWOOD: A WORD AFTER A WORD AFTER A WORD IS POWER chronicles the busy life and career of The Handmaid's Tale author as one of Canada's most accomplished writers and ardent feminists.
Among the short films which stand out at first glance include; Rami Kodeih's ALINA about a group of women trying to sneak a baby out of the Warsaw Ghetto, which stars Alia Shawkat ("Arrested Development"), Edin Gali ("Mad Men"), Erika Soto (VIDA) and Mark McCullough (LOGAN LUCKY); SLO Film Fest alum Bracq Fabrice's BURQA CITY about a couple that have just got married in a Kafkaesque country; John Gray's EXTRA INNINGS about a contentious interview with the manager of the Boston Red Sox, starring Peter Riegert (LOCAL HERO, CROSSING DELANCY); Caroline Lindy's YOUR MONSTER, about a girl who moves home sick and brokenhearted to find the monster in her closet is still there and ready to talk. The film stars Kimiko Glenn ("Orange is the New Black") and Tommy Dewey ("Casual," "The Mindy Project").
The documentary short film competition will include Lawrence and Meg Kasdan, who will come to San Luis Obispo with their film LAST WEEK AT ED'S, about the closing of the beloved Ed's Coffee Shop in West Hollywood.
Passes are now on sale and information on the film festival can be found at https://slofilmfest.org.
The 2020 GEORGE SIDNEY INDEPENDENT FILM COMPETITION selections:
NARRATIVE FILM COMPETITION
ALONE WITH HER DREAMS
Director: Paola Licata
Country: Italy, Running Time: 95 min.
Lucia is 11 when her parents leave Sicily in the late 1960s to find work in France and leave her with grandmother Maria, a strict woman incapable of expressing her feelings. As the months pass, Lucia is curious about the family Maria bans her from seeing without explaining why, so she visits them with tragic consequences. Years later, Lucia faces her past and realizes that Maria taught her dignity, strength and optimism. This well-acted film also illustrates the plight of immigrants who entrust their children to those who remain – waiting for a family reunion that often isn't possible.
BOOK WEEK
Director: Heath Davis
Country: Australia, Running Time: 96 min.
When it looks like his novel is going to be published, high school English teacher and once famous novelist, Nicholas Cutler, thinks his luck has finally changed. But what promises to be the best week of his life professionally, spirals into seven days of hell personally. A pregnant girlfriend, student in trouble with the law, a gravely ill brother in law and the prospects of living a life of unfilled dreams force Mr. Cutler to re-examine just what's most important in his life.
THE ILLEGAL
Director: Danish Renzu
Country: USA, Running Time: 86 min.
In this gritty, realistic story, a young film student from middle-class India is forced to drop out of college in Los Angeles to support his family, then loses his student visa and is stuck working at an Indian restaurant – unable to get a better-paying job because he's undocumented, unable to save enough money to go home. This excellent, well-paced film is emotional and sad, reflecting a common plight of immigrant restaurant workers who are caught in the system, living a life they never envisioned, asking themselves: "Is this what you thought your life would be when you came to America?"
LOVE SARAH
Director: Eliza Schroder
Country: UK, Running Time: 98 min.
A young woman wants to fulfill her late mother's dream of opening a bakery in Notting Hill, London, so she enlists the help of an old friend and her grandmother. This well-paced story chronicles the women's ups and downs as they strive to find their niche, forging lasting bonds along the way. Fine cinematography, moving music and great acting, especially by the lead award-winning actress, contribute to this feel-good film. Guaranteed to leave you wanting a coffee and croissant – or at least popcorn!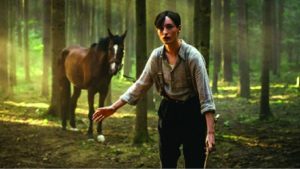 OUT STEALING HORSES
Director: Hans Petter Moland
Country: Norway, Running Time: 123 min.
Adapted by Norwegian director Hans Petter Moland from Per Petterson's beloved 2003 novel "Out Stealing Horses," the story follows 67-year-old widower Trond Sander (Stellen Skarsgård) as he transitions to a lonely retirement in the breathtaking but desolate landscape of eastern Norway. As winter arrives, he finds a neighbor who he once knew during the summer of 1948. Trond reflects back on that bucolic and childhood summer, the last one he spent with his father as they rode wild horses and chopped wood. This is Norway's official Oscar entry.
TWO WAYS HOME
Director: Ron Vignone
Country: USA, Running Time: 90 min.
A young woman living with bipolar disorder returns to her hometown in rural Iowa to reconnect with her estranged 12-year-old daughter. Going head to head with her family sets her on a course to free her cantankerous grandfather from a nursing home, and live his last days out on the family farm. As she struggles to maintain balance with her condition, complications with her daughter's well-being and her grandfather's health test her sense of self-worth to the limit.
THE WAVE
Director: Gille Klabin
Country: USA, Running Time: 84 min.
A man on the verge of a promotion takes a mysterious hallucinogenic drug that begins to tear down his reality and expose his life for what it really is. Director Gille Klabin creates a stylish world that drags star Justin Long (TUSK, LIVE FREE OR DIE HARD) through some unconventional hardships. Also features Donald Faison (Scrubs, CLUELESS), and incredible visual effects by SLO native, Patrick Lawler.
ZORO'S SOLO
Director: Martin Busker
Country: Germany, Running Time: 90 min.
A 13-year-old refugee from Afghanistan living in an emergency shelter in Germany joins a Christian boys' choir to save his ill father who was left stranded in Hungary – and clashes with the strict choir director, among others. It's an entertaining, dramatic and well-paced film that reflects the impact of immigration and families torn apart and how one individual can help make a difference in a young person's life. It's especially notable given that this is the Berlin director's first feature film. Choir performances are moving.
DOCUMENTARY FILM COMPETITION
5 BLOCKS
Director: Dan Goldes
Country: USA, Running Time: 50 min.
San Francisco's Market Street was once the grandest boulevard in America. No stranger to civic celebrations since the 1900s and just minutes from City Hall, the area fell into decline and became home to the city's poorest population. The neighborhood is currently undergoing its most dramatic change in 50 years as tech companies, their employees, and the restaurants and stores that cater to them confront the realities of a neighborhood that still houses some of the city's most marginalized residents. 5 BLOCKS explores the complex questions of income disparity, changing demographics, and the very nature of place.
AGNIYOGANA: LOWER THE HEAD, INVOKE THE FIRE
Director: Emma Balnaves
Country: Australia, Running Time: 64 min.
A meditative inquiry into the lost art of classical Hatha Yoga, AGNIYOGANA explores the richness of traditional Hatha Yoga teachings and the deeply connected states of heart, mind and freedom these practices deliver to sincere truth seekers. Take a journey through time and space to rediscover the inner dimensions of Hatha Yoga and reconnect the human spirit to the true meaning of "yug," the connecting roots of all yogas.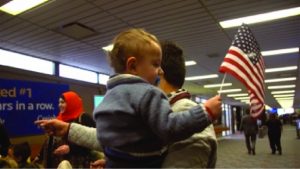 A HOME CALLED NEBRASKA
Directors: Beth and George Gage
Country: USA, Running Time: 69 min.
This well-paced film takes us behind the scenes of the U.S. immigration crisis, focusing on efforts in Nebraska to welcome immigrants and refugees. In 2016, during the world's largest refugee crisis since World War II, this Midwestern conservative state resettled more refugees per capita than any other state. "Our legacy as a country is to be welcoming, whether you're liberal or conservative," one volunteer noted. The immigrants' remarkable stories of survival and Nebraskans' hospitality to help them create new lives here – and change their own perceptions in the process – are both heartfelt and informative.
ASSHOLES: A THEORY
Director: John Walker
Country: Canada, Running Time: 81 min.
Inspired by Aaron James' New York Times bestseller of the same name, ASSHOLES: A THEORY investigates the breeding grounds of contemporary 'asshole culture' — and locates signs of civility in an otherwise rude-n-nasty universe. Venturing into predominantly male domain, Canadian director John Walker moves from Ivy League frat clubs to the bratty princedoms of Silicon Valley and bear pits of international finance. Why do assholes thrive in certain environments? What explains their perverse appeal? And how do they keep getting elected?
AULCIE
Director: Dani Menkin
Countries: USA/Israel, Running Time: 72 min.
Aulcie Perry, a basketball legend in Israel opens up for the first time about his roller coaster career, while searching for his daughter he hasn't seen for more than 20 years. This is a truly fascinating story of fame, love, loss and redemption.
THE CONDOR AND THE EAGLE
Directors: Sophie and Clement Guerra
Country: USA, Running Time: 79 min.
Four Indigenous environmental leaders embark on an extraordinary trans-continental adventure from the Canadian plains to deep into the heart of the Amazonian jungle to unite the peoples of North and South America and deepen the meaning of Climate Justice.
COUP 53
Director: Taghi Amirani
Country: USA, Running Time: 119 min.
While making a documentary about the Anglo-American coup in Iran in 1953, Iranian director Taghi Amirani and editor Walter Murch (APOCALYPSE NOW, THE GODFATHER) discover never seen before archive material hidden for decades. The 16mm footage and documents not only allow the filmmaker to tell the story of the overthrow of the Iranian government in unprecedented detail, but also lead to explosive revelations about dark British secrets buried for 66 years. What begins as a history documentary about 4 days in August 1985 turns into a live investigation, taking the filmmaker into uncharted cinematic waters.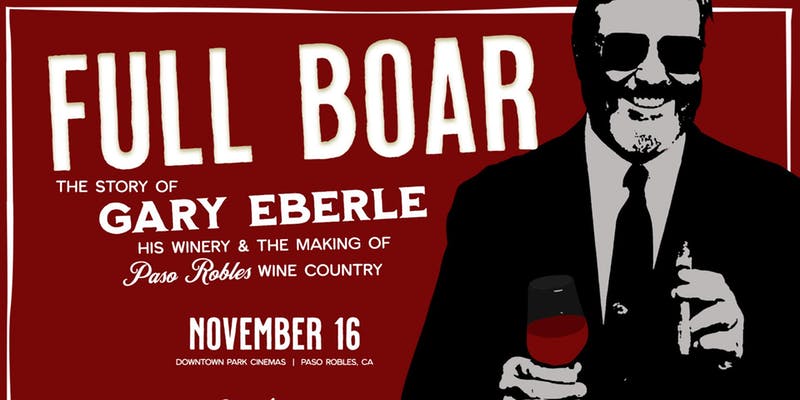 FULL BOAR
Director: Peter Schroeder III
Country: USA, Running Time: 50 min.
In this insightful documentary on Gary Eberle, you'll get a sense of the man called the godfather of the Paso Robles wine industry – his astute winemaking skills, warmth, deprecating self-humor, genuine compassion and determination in overcoming a hostile corporate takeover. Now celebrating his namesake winery's 40th year, the man once destined for medical research credits legendary football coach Joe Paterno and famed winemaker Robert Mondavi for teaching him key lessons along the way. It's an engaging, informative film worth watching, even if you don't love wine.
THE LURE OF THIS LAND
Director: Alexandra Lexton
Countries: USA/Belize, Running Time:67 min.
THE LURE OF THIS LAND is an exploration of why people leave the places they know and love. Why do they leave their homelands? What are they looking for? What do they find? Filmmaker Alexandra Lexton came to Belize and found these stories: A story of a place, the story of others, and the more personal internal voyage of the foreigner in a foreign land. Among others, we meet people who have left everything to regenerate and rediscover themselves: Zookeeper Sharon Matola who has made the Belize Zoo out of Belize's rescued indigenous and threatened creatures, nature documentary filmmakers Richard and Carol Foster, and eco lodge originators Mick and Lucy Fleming. Behind every door we find another story, another person who had the drive to change their life… and to risk for a time getting lost.
MARGARET ATWOOD: A WORD AFTER A WORD AFTER A WORD IS POWER
Directors: Nancy Lang and Peter Raymont
Country: Canada, Running Time: 90 min.
Margaret Atwood is in serious demand these days. With her dystopian novel of brutal gender divides, The Handmaid's Tale, having been adapted for TV and becoming a global symbol for Women's Marches, the 80-year-old's fiction feels more relevant to real life than ever. Filmed over a year, this doc follows Atwood and her partner, Graeme Gibson (who died in September), as they jet to speaking engagements and meet devoted fans across the world, inspiring action.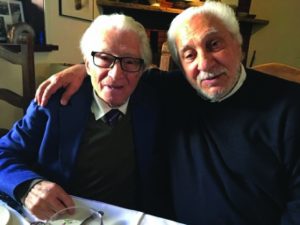 MENTORS: TONY & SANTI
Director: Andrew Davis
Country: USA, Running Time: 50 min.
Tony Vaccaro's subjects include Enzo Ferrari, Pablo Picasso, JFK and Sophia Loren amongst hundreds of others for Look and Life magazines. Santi Visalli photographed five US presidents, Federico Fellini, Mohammed Ali, Louis Armstrong, and Sophia Loren, as well as covers for over 50 magazines and newspapers including the New York Times, Time, Newsweek and Forbes. MENTORS: TONY & SANTI is an intimate portrait of two renowned photographers by director Andrew Davis (THE FUGITIVE) Sharing their life's journey not only as friends but also legendary photographers, they remind us all of the role family, friends, and mutual support plays in one's life.
I GOT A MONSTER
Director: Kevin Abrams
Country: USA, Running Time: 103 min.
In March of 2017, Baltimore was rocked by one of the nation's largest police corruption scandals when seven members of the elite Gun Trace Task Force unit were federally indicted on racketeering charges. Defense attorney Ivan Bates wasn't shocked by the new because for years he had been listening to the victims of these crimes and had been trying to bring down the corrupt sergeant. I GOT A MONSTER is the true story of a cat-and-mouse game in an upside down world where the cops are also the robbers!
IT ALL BEGINS WITH A SONG: THE STORY OF THE NASHVILLE SONGWRITER
Director: Chusy
Country: USA, Running Time: 85 min.
We all hum their tunes. We know their words by heart. And we tell the story of our own lives through their art. Yet, few of us know their names. This is a film about one of the most important and unknown, forces in music: The Nashville Songwriter. From paying their dues to working through their creative process, this documentary draws from more than one hundred hours of footage and includes more than eighty interviews with music industry figures and songwriters such as Garth Brooks, Ben Folds, John Hiatt, Brett James, Alison Mosshart, Kacey Musgraves and Keb' Mo'. A truly fascinating and entertaining tribute to the most valuable resource in the music industry today: the songwriter.
LIFE IN SYNCRO
Director: Angela Pinaglia
Country: USA, Running Time: 53 min.
Discover the world of synchronized ice skating, a sport that has been empowering generations of women since 1956 when it was founded by a father who saw the need for team sports for girls. Even though the sport has big dreams of Olympic inclusion, it has remained mostly on the fringe. Syncro is one of the few sports where there is not a male version of it. It's 99.99% female and serves women of all ages. The film follows several determined skaters and coaches throughout a skating season, including a Team USA skater who wants to win big on the national stage and a 66-year old who found her passion for skating later in life and has built a community for herself around the sport.
LOVE THEM FIRST: LESSONS FROM LUCY LANEY ELEMENTARY
Director: Lindsey Seavert
Country: USA, Running Time: 90 min.
After this Minneapolis school ranked at the bottom of the state's list of underperforming schools for two decades, its principal set out to change the culture and expectations among students, teachers and parents. Calling the challenge "Mission Possible," she started with a decision to love all of the students, making them feel safe and accepted. The beautifully executed film, which follows the principal, parents and students for a year, shows the challenges they face in a state that has the largest achievement gap between black and white children in the U.S. An important subject – inspiring, heartwarming and hopeful.
MOTHERLOAD
Director: Liz Canning
Country: USA, Running Time: 86 min.
In MOTHERLOAD, the cargo bicycle becomes a vehicle for exploring parenthood in this digital age of climate change. As Marin filmmaker and new mother, Liz Canning, meets people behind the push to replace cars with purpose-built bikes, she contemplates the increasing tension between modern life and our hunter-gatherer DNA, and discovers the history and potential future of the bicycle as the "ultimate social revolutionizer." Conflict arises when characters in the film encounter cultural resistance – in particular, "bikelash" focused on women and mothers. MOTHERLOAD draws connections here to the struggle of cyclist Suffragettes and women's seemingly endless fight for bodily autonomy.
THE MUSTANGS: AMERICA'S WILD HORSES
Director: Steven Latham
Country: USA, Running Time: 74 min.
This beautiful documentary takes audiences on an odyssey throughout America to places few people have seen or even know about. There are more than 80,000 wild horses on our federal lands and more than 50,000 in government holding facilities. Whether you are a horse person or not, this film will make you fall in love with America all over again and understand why the protection of our wild horses and our public lands are worth fighting for. Wild horse sanctuary Return to Freedom, located in San Luis Obispo, is featured in the film.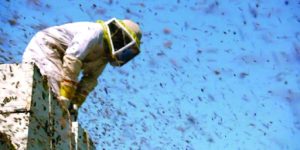 THE POLLINATORS
Director: Peter Nelson
Country: USA, Running Time: 92 min.
Much of the food on our tables comes from the intrinsic act of pollinating the flowers that become the fruits, vegetables and nuts we eat. But the agricultural practices, pesticides and politics are making that simple act of nature more difficult every day. THE POLLINATORS takes us on a cinematic journey around the United States, as he follows migratory beekeepers and their truckloads of honey bees. Director/cinematographer Peter Nelson meets some fascinating farmers, scientists, chefs, economists and academics that give a broad perspective about the threats to honey bees and what it means to our food security.
SEX, DRUGS AND BICYCLES
Director: Jonathan Blank
Countries: USA/Netherlands, Running Time: 86 min.
Funny, creative and provocative, SEX, DRUGS & BICYCLES takes a good look at Dutch social democracy and answers the question: is having month-long double paid vacations, no fear of homelessness, and universal healthcare the nightmare we've been warned about? The answer may surprise you. Then again it may not. It really depends on a lot of factors outside our control. This is an enjoyable ride no matter what!
THE STORY OF PLASTIC
Director: Deia Schlosberg
Country: USA, Running Time: 89 min.
Headlines tout the crisis involving toxic plastic pollution, but not as much about plastic's origin. This informative, sobering film aims to change that. A neighborhood in the Philippines that's awash in plastic trash. A pipeline in Pennsylvania. A single refinery in Texas. They're all part of a web of plastics infrastructure working together to significantly increase the amount of plastics in the world, threatening the life expectancy of animals, humans and Earth itself. Striking footage, original animations and archival material combine in this timely, must-see film that educates, offers solutions – and motivates us to change.
SHORT FILMS
NARRATIVE SHORTS
AGE OF DYSPHORIA
Director: Jessica Petelle
Country: Canada, Running Time: 19 min.
ALINA
Director: Rami Kodeih
Country: USA, Running Time: 25 min.
ANNA
Director: Dekel Berenson
Country: Ukraine, Running Time: 15 min.
AVA IN THE END
Director: Ursula Ellis
Country: USA, Running Time: 10 min.
BALLOON
Director: Jeremy Merrifield
Country: USA, Running Time: 17 min.
BREATHLESS
Director: YiJia Fang
Country: China, Running Time: 16 min.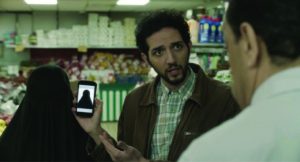 BURQA CITY
Director: Bracq Fabrice
Country: France, Running Time: 20 min.
THE CHEF
Director: Hao Zheng
Country: USA, Running Time: 20 min.
¡COME! (EAT)
Director: Lizette Barrera
Country: USA, Running Time: 12 min.
EXTRA INNINGS
Director: John Gray
Country: USA, Running Time: 9 min.
FEELING THROUGH
Director: Doug Roland
Country: USA, Running Time: 18 min.
THE GERMAN KING
Director: Adetokumboh M'Cormack
Country: USA, Running Time: 20 min.
KNOCK KNOCK KNOCK
Director: Sudhanshu Saria
Country: India, Running Time: 37 min.
MAESTRO
Director: Illogic
Country: France, Running Time: 2 min.
THE ONE YOU NEVER FORGET
Director: Morgan Jon Fox
Country: USA, Running Time: 8 min.
PLANET EARTH CALLING ANA
Director: Fernando Bonelli
Country: Spain, Running Time: 20 min.
SHORT CALF MUSCLE
Director: Victoria Warmerdam
Country: Netherlands, Running Time: 13 min.
STORY
Director: Jolanta Bankowska
Country: Poland, Running Time: 5 min.
TOKE IS CHEAP
Director: Kerry van der Griend
Country: Canada, Running Time: 23 min.
UMBRELLA
Directors: Helena Hilario, Mario Pece
Country: Brazil, Running Time: 8 min.
US MX
Director: Joseph O. Hooten
Country: USA, Running Time: 16 min.
YOUR MONSTER
Director: Caroline Lindy
Country: USA, Running Time: 14 min.
DOCUMENTARY SHORTS
CAMP ALEC
Director: Christopher Stoudt
Country: USA, Running Time: 18 min.
DICK PIC'S!
Directors: Hannah McSwiggen, Russell Sheaffer
Country: USA, Running Time: 12 min.
FULL CIRCLE
Director: Patrick Norman
Country: USA, Running Time: 38 min.
GLORIA'S CALL
Director: Cheri Gaulke
Country: USA, Running Time: 17 min.
THE GREAT TOILET PAPER SCARE
Director: Brian Gersten
Country: USA, Running Time: 11 min.
KNOCKING DOWN THE FENCES
Director: Megan Shutzer
Country: USA, Running Time: 12 min.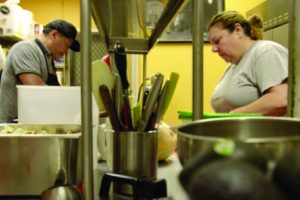 LAST WEEK AT ED'S
Directors: Lawrence and Meg Kasdan
Country: USA, Running Time: 40 min.
SUSTAINED OUTRAGE
Director: Gabriela Cavanagh
Country: USA, Running Time: 24 min.
WATERPROOF
Director: Ross Kauffman
Country: USA, Running Time: 31 min.
WE BEGAN TO SING
Director: Polly Wells
Country: Canada, Running Time: 23 min.