Will be a free drive-in-style event at Colony Square
ATASCADERO — The Atascadero Police Department invites the community to "A Night Out with Atascadero Police & Fire" in the City of Atascadero. This free drive-in event will be held on Wednesday, Oct. 28, from 5:30 to 9 p.m. at Colony Square in Downtown Atascadero, 6907 El Camino Real.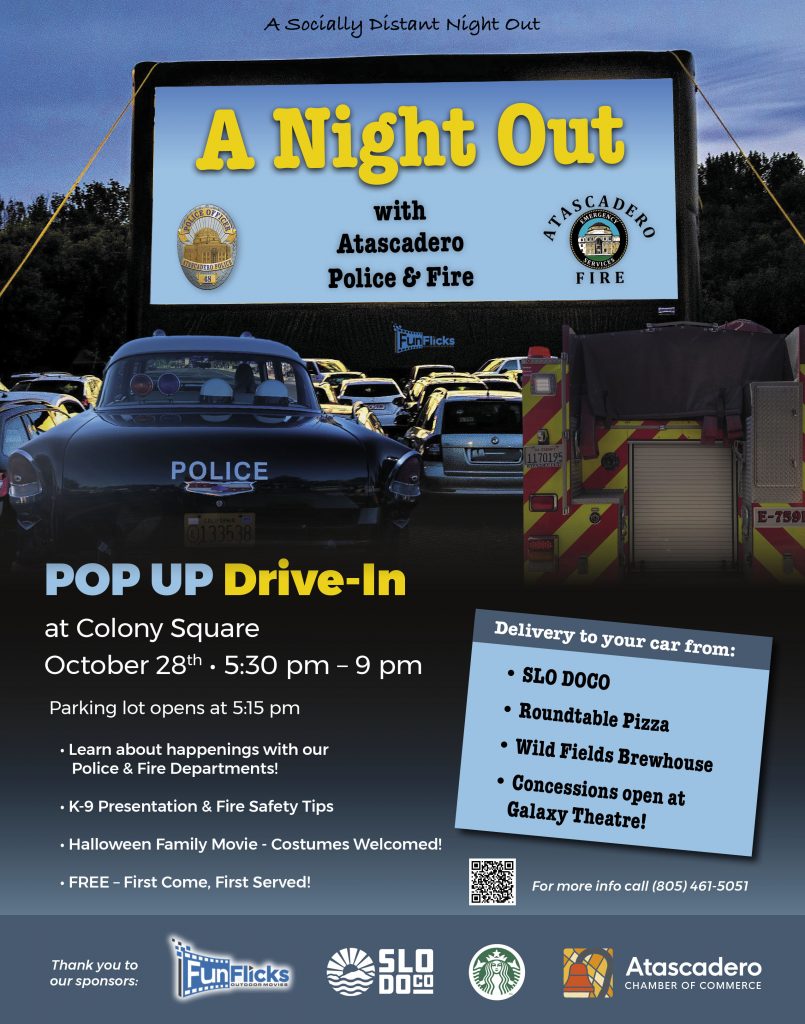 COVID-19 has played a role with events being postponed and National Night Out is no different. Normally, this event is held the first week of August and due to the pandemic, was rescheduled to the first week of October. The designated date didn't work, so instead, the agencies are having this event on Oct. 28.
National Night Out is an annual, community-building campaign promoting police and community partnerships designed to establish camaraderie amongst neighborhoods that make them a safer and more caring place to live. This year, the local "A Night Out with Atascadero Police & Fire," is an opportunity to continue good relationships between neighbors and local law enforcement. Furthermore, it provides an opportunity to bring police and neighbors together under positive circumstances. This year, the Atascadero Fire and Emergency Services Department is being included.
On this evening, they look forward to having people come out for a "socially distanced" night out to meet the Atascadero Police and Fire Departments and other public safety partners for a K-9 presentation, watch the Fire Prevention Week video and share in the community experience in a COVID safe manner all from the privacy of your vehicle.
advertisement

Plan to bring the family and order dinner from a local restaurant. Colony Square businesses will be open. All you have to do is call them to order, let them know your space number and they will bring the food to you.
Participating restaurants include Roundtable Pizza, SloDoCo Donuts, Wild Fields Brewhouse and Que Pasa. Galaxy Theatre will be open for concessions all evening.
Once all of the safety presentations are complete, a Halloween family movie will be shown. The event starts at 5:30 p.m. and they will open the parking lot area at 5:15 p.m. All spaces are "first-come, first-served," and once filled, they will not be able to accommodate any additional spots.
Sponsors include the Atascadero Chamber of Commerce, Funflicks, Starbucks, and SloDoCo Donuts.
For more information, contact Community Service Officer Lauren Purify or Sgt. John Taylor at 805-461-5051.