The check-gifting ceremony was held at the zoo
ATASCADERO — On Thursday, Oct. 19, at 5 p.m., the Atascadero Chamber of Commerce and the Atascadero Lakeside Wine Festival Committee held a mini-ceremony in front of the flamingo exhibit at the Charles Paddock Zoo to hand over a check for the total of $10,000.
"For as long as I know, it is our tradition, and a tradition that we love doing, to support the zoo in any way that we can," stated Chamber President and CEO Josh Cross at the ceremony. "We do this through the wine festival. This year, I will say it was a bit of a challenging year at the wine festival. Our board of directors felt like this is an important investment that we make into our community, and we were happy to be able to provide this check."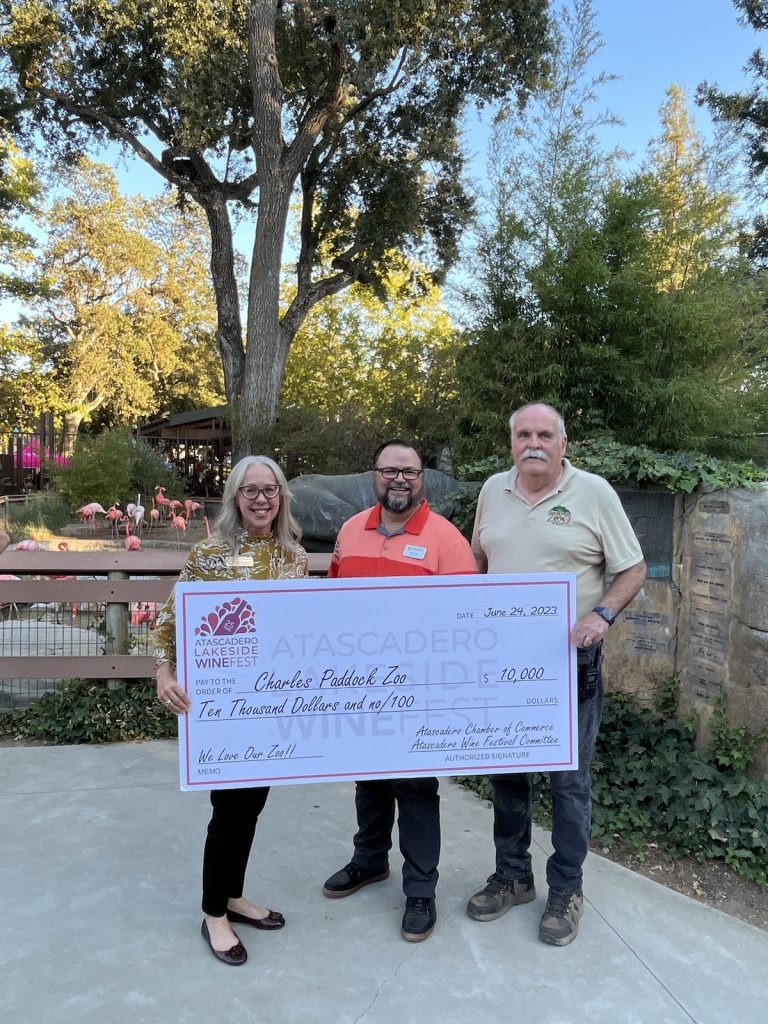 Every year, the Atascadero Lakeside Festival, which took place on June 24, raises money for the conservation of the zoo, and this year was no different, with a whopping total of $10,000 going directly to the city zoo.
advertisement

"Thank you for all the work that you're doing, and this is a great opportunity to put Atascadero on the map with the zoo," continued Cross as he addressed Zoo Director Alan Baker. "It's such an important asset to the community. Thank you for all the work you do. We hope to continue sponsoring this for another 100 years."
"We traditionally love to accept this check from you each year. Believe me, it will go to great use, that's for sure," joked Baker in response.
In past years, the donation raised at the Wine Fest has funded half of the flamingo exhibit, the meerkat exhibit, and the tortoise exhibit.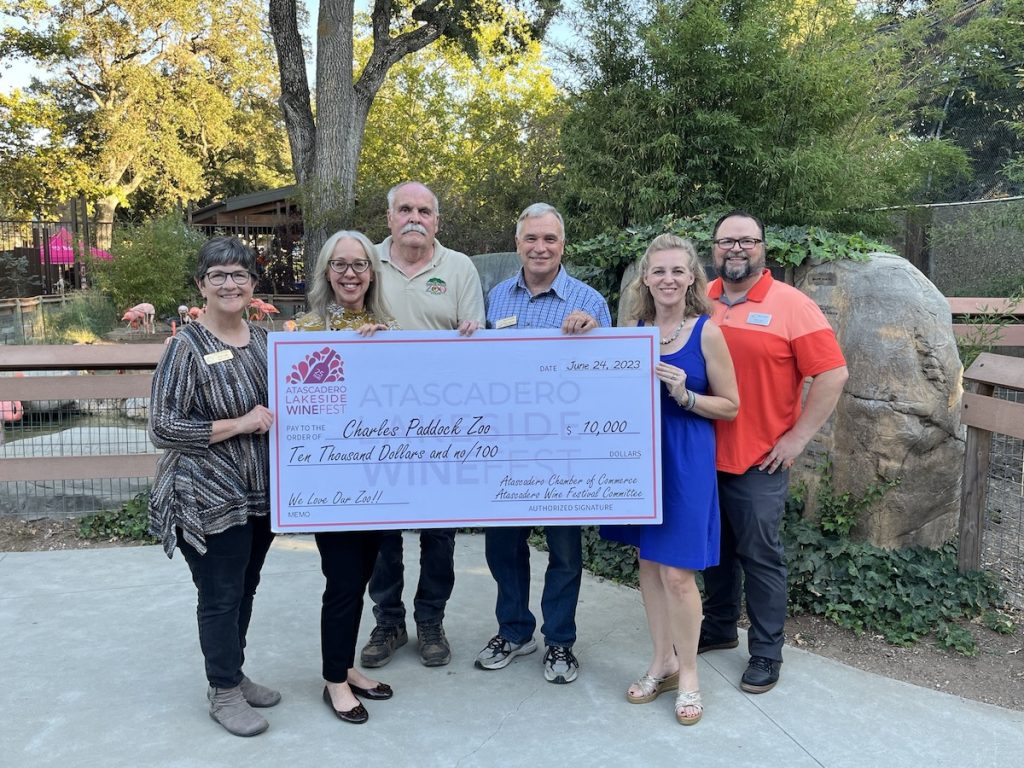 "The Wine Fest has been an important and integral part in moving the zoo forward in its master plan for many years," added Baker.
He continued that most of the people who started the Lakeside Wine Festival were also zoo board members, so the zoo and the wine fest have always had a strong link to each other.
"It's just a great partnership for us. We're very thankful that they keep thinking of us every year, and it just really goes a long way to help us out with our mission," he concluded.
The Charles Paddock Zoo is open seven days a week, starting at 10 a.m. Starting on Nov. 1, closing time will switch from 5 p.m. to 4 p.m., so keep that in mind while planning your next trip to see your favorite animals. For more information go to charlespaddockzoo.org.
Feature Image: (From left) Atascadero Chamber President Josh Cross, Aaron Smith, Mayor Pro Tem Susan Funk, Rosey Parks, Mayor Heather Moreno, Dawn Smith, Gina Lutz, Gail Kudlac, Zoo Director Alan Baker, Councilmember Heather Newsom, Councilmember Charles Bourbeau, Anna Pecharich, Daniel Armendariz, and Angela Cisneros are shown at the zoo donation ceremony. Photo by Christianna Marks.