The ceremony returned for its 17th year
ATASCADERO — The Pavilion on the Lake was full of Atascadero High School (AHS) sports alums, regular alumni, and past inductees from the Greyhound Foundation Athletic Hall of Fame on Saturday, Oct. 21. The reason they were there? To celebrate seven new 2023 inductees being added to the Hall of Fame roster at the 17th year of the celebration.
"The foundation was started in 2007, and we've inducted 161 Hall of Famers," said Ron Johansen at the start of the show.
At the top of the night, AHS Athletic Director Sam DeRose welcomed and thanked past inductees who were in attendance. He commented on the legacies left at the school by everyone in the room and reveled in the fact that the ceremony was a time to celebrate them.
advertisement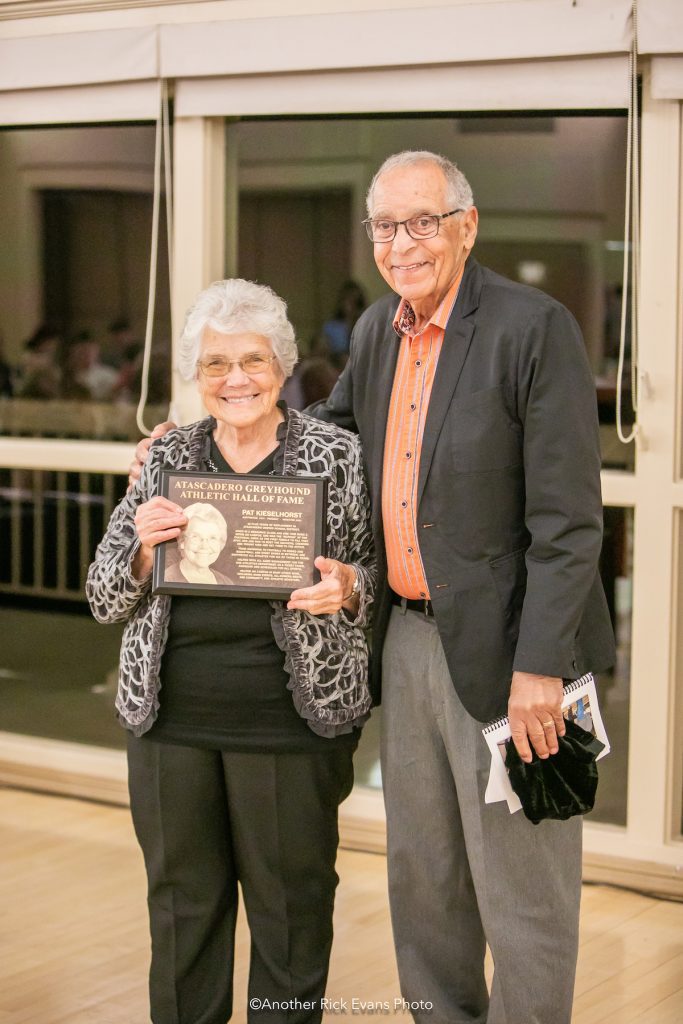 "It's that link to the past, like Sam [DeRose] said, it's about tradition and legacy," said Emcee Christian Cooper in his intro speech. "It's that link to the past. It's that thing, the people, places, events, that made us who we are today. It's that common ground between old teammates that you haven't seen in years, and it all just starts flooding back. That's the coolest thing in the world. The stuff that we share, the things we remember,"
Every single one of the seven new inductees in the Hall of Fame was introduced by Cooper, and then went on to give speeches about their time at AHS. There were plenty of laughs shared by the audience, and everyone enjoyed a delicious meal prepared by Andrew Weatherly.
"When Pat was in school, girls were not allowed to play competitive sports in high school, so she had to live vicariously through five decades worth of athletes," stated Cooper as he introduced the night's first inductee, Pat Kieselhorst. "She supported, came alongside, cheered, and sat undefeated, having a daydream. From, you name it, swim meats to rodeos, marching band events, football to basketball, and every sport in between.
"She's done everything, watched multi-generations, like grandpas, and fathers, and sons, wear the orange and grey. Her fingerprint is everywhere."
This year's inductees into the Hall of Fame were:
PAT KIESELHORST
Supporter
Kieselhorst was not only employed in the Atascadero Unified School District for over 50 years, but she was also the "matron" of the custodial crew and was the first female to fill the role. She's also supported every single sport at AHS for all of those 50-plus years while also being a ticket taker and helping with all game management for the AHS Athletic Department. But she wasn't only involved with sports. She also helped out with other things, like band events, on campus.
REYNANI (RODRIGUES) CHAPPEL
Class of 1993
Chappel earned a total of nine varsity letters over her AHS career: Three in volleyball, two in basketball, and four in softball. She was the softball team's MVP in her sophomore year and was a member of the 1993 CIF-SS Championship softball team in 1992.
CAROLYN (JONES) MCGAUGHEY
Class of 1999
McGaughey had eight varsity letters, four in cross country and four in track, when she graduated. She was cross country MVP in 1997, 1998, and 1999 and tied the school record in the 2-mile run. She went on to break records at UC San Diego and was honored as the 1999-2000 UCSD Female Athlete of the Year.
NICK KAISER
Class of 1988
Kaiser earned five varsity letters at AHS, including two in football and three in baseball. He was a three-time all-league and all-county baseball player and earned AHS baseball MVP honors in his senior year.
JASON McEWEN
Class of 1989
McEwen earned a whopping eight varsity letters, two in football, four in soccer, and two in baseball, while at AHS. He was a two-time Los Padres League MVP, a two-time all-CIF honoree in soccer, and a two-time all-county kicker in football. He was also the Greyhound Athlete of the Year in 1989.
TRAVIS JONES
Class of 2005
Jones earned seven varsity letters, two in football, three in wrestling, and two in baseball. He was a two-time all-league in football, wrestling, and baseball. He was also a member of the 2003-04 CIF Championship wrestling team and the 2005 Greyhound Athlete of the Year.
TRENT LUNCEFORD
Coach
Lunceford has coached girl's soccer and volleyball. He was at the helm when the Greyhounds girls soccer team won its first-ever league championship and and the volleyball squad has five undefeated league championships in volleyball. He also brought five different teams to the CIF semifinals and reached the CIF playoffs 19 out of his 20 seasons as head coach.
To learn more about the Atascadero Greyhound Foundation and the Hall of Fame, go to: atascaderogreyhoundfoundation.org.