The Foundation has been working with local and California groups to raise funds
ATASCADERO—One of Atascadero's oldest buildings, The Printery, has been uninhabitable for years, but The Atascadero Printery Foundation aims to change that—soon!
The building, which was completed in 1915, was used as a printery until 1924. In 1916, The Atascadero News Building was added on and was in use until 1949 and demolished in the 1960s. During the Printery's hay-day (1928 to 1949), a total of three colleges were hosted in the building.
The Atascadero Printery Foundation has big plans for the building, including a performing arts theater (which will hold up to 300 people), an interactive printing museum, and meeting spaces for community use.
advertisement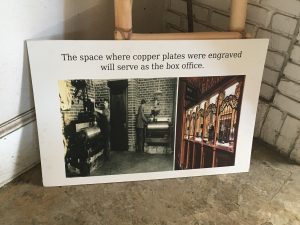 "I think any of the theater groups, [the schools], the dance academies; everybody will be here. It's just so needed. And we can have fun things, you know, enjoyable events here in Atascadero, and we really, truly believe it'll help the resturants and everything. Because if people are going to come to a show here, they're going to come to eat here," said The Printery Foundation's President, Karen McNamara.
The old Pool Room (whose pool has been filled in) will be turned into a community room and a black box theater when needed. And the Print Museum will feature interactive installations, creating a usable space where you can also learn the building's history.
Almost every element of the building is original. The Grand Entrance even has its original marble floors, marble stairs, and original canvas murals. The murals were painted by Ralph Holmes, who came to Atascadero to teach art in 1915/1916. The Printery Foundation has all but one of the murals. "We're hoping it's around here somewhere, and somebody gives it back when they find out that we're actually ready to put them back on the walls," added McNamara.
The Foundation has also been working with local and California groups to raise money and bring the building back to its former glory.
"We have a group that's raising funds to do the windows. So they're trying to get all of the front windows done in 2022. That's 20 windows, so they're trying to do that. It's the group called Questers. Their local group started, and then they actually got the California State Questers involved, and this is now their State project," said McNamara.
"The windows are more ornate than The Rotunda. And there are some details on this building that are unique to this building. If you look up and you see all the detail on it, they're custom made for this building. By working artists 100 years ago. So that makes it cool," said the project's architect, Greg Ravatt.
The Atascadero Printery Foundation is currently doing small projects and clean-up while they wait for more funding to come in.
"We think we need about 1.5 million for all the retrofit before we can get the Red Tag off. So we're really, heavily grant writing right now," said McNamara. "We think we can start some work, maybe around June. Depending on what we can get for funding."
Once the Red Tag is off the building, The Printery Foundation will open The Printery in stages. Starting with some of the smaller rooms. They're also planning on utilizing their outdoor stage beginning this summer.
On November 15, 2021, the Foundation received a $100,000 matching gift, and since then, they have raised $83,000 of it. The $200,000 will be used to get a good head start on the building's retrofit.
For more information or to donate to the Atascadero Printery Foundation, visit: AtascaderoPrintery.org