Artist Michelle Watson was diagnosed with Polycystic Kidney Disease and accepted into Cal Poly the same day
ATASCADERO—For all of January, local artist Michelle Watson is painting a new piece every day. Her goal, have 30 paintings by January 30!
"I normally would sit down and plan out a series and have very, very specific parameters. I'm going to use this color pallet, I'm going to use these patterns for these specific reasons and tell a story. But for the January 2022 series, I decided to go a different route and give myself free rein. These are going to be my 30 days where I don't put rules on myself, and I just let it happen organically," Watson said of her 30-day challenge. "For me, it's actually been really therapeutic and given me a lot of ideas. It's sort of brainstorming while working."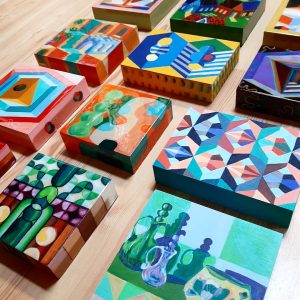 Watson grew up in a family full of artists. So it was no surprise to anyone when she decided to pursue art full time by going back to school in 2016.
advertisement

"I took a step back from my grueling life to be like, hey, I'm going to be a real grownup, and this is going to be my profession," Watson said. "The same day I got my acceptance letter [to Cal Poly's Art Program], I was diagnosed with Polycystic Kidney Disease [PKD]. It's been really interesting because my professional art life has literally paralleled my PKD journey every step of the way. There hasn't been a separateness to it."
Polycystic Kidney Disease is an inherited disorder where a cluster of noncancerous cysts develops in the kidneys. The cysts grow extremely large and eventually cause organ failure. Most people with the disease experience kidney failure before age 60.
"PKD is very stressful, you slowly get worse, and there isn't anything that can be done but get tests to monitor what's happening, it runs in families, and even in the families that carry the gene, it affects each person differently. I was old enough to remember what it was like to watch my Dad and Aunts die from it as a kid and know what's coming. So it's psychologically a difficult disease because there isn't a regiment of drugs to follow or any way to improve your symptoms, and you are just deteriorating. That can be isolating."
Watson, who will need a kidney transplant, has seen a change in her art over the years. Where she used to paint landscapes and fairies, she now uses geometric obstruction and bold colors.
"My art became more and more abstract and more geometric because of [my health]. So just kind of breaking down all of the tiny, minute details of life and then putting them into little boxes is kind of how my geometric obstruction started."
Due to COVID, Watson wasn't able to see any of her doctors in person during 2020. She assumed she was fine because she didn't have the physical stress of work and school.
"In 2021, however, when I did get my checkups and tests, I found my kidneys had actually progressed quickly from a certain stage of kidney failure to 1.5 ahead during that year, likely due to the psychological stresses, which in kidney disease harm you just as much as salt or protein," added Watson. "I didn't know not getting my routine tests would be that detrimental."
During her time in isolation, Watson has been delving deeper into the study of color theory and how color and how our eyes see it has an effect on the viewer. "It's intentionally designed to trigger things," Watson said of color theory.
"My art, as I've gotten more sick, it's actually been a blessing because if I hadn't made the change in my life to pursue art the way that I have, I would have a lot less options. It's some kismet thing. I literally had to do this. Because at some point in my life, sitting here and playing with colors is the only thing I will be able to do."
Watson's art will be hosted in Specs eyewear shop the whole month of February. In addition, she and Spec's owner Kyla Skinner are teaming up for Atascadero's Art and Wine Tour on February 11. You can follow Watson's art/life journey on her social media: @mlw.studio