Senior has 48 wins, 668 strikeouts and 1.26 ERA
ATASCADERO — After verbally committing at the end of her sophomore year, Atascadero's Bailey Doherty made it official on Nov. 21, that she will be joining the Cal Poly Mustangs next year as she signed her National Letter of Intent surrounded by friends and family at the Atascadero High School Athletic Office.
"It feels wonderful to see all the hard work pay off," Doherty said at her signing ceremony. "I never really thought that I would go to college for softball, I just did it for fun and I had friends who did it. Then I joined travel ball and eventually I had a verbal and I was like, 'Oh my gosh, this is actually happening' and to this day it is just amazing to see it all come together."
Doherty's first love was horses and the former rodeo queen never forgot that when picking her school of choice often commenting that, "There are baby horse right next to the softball field [at Cal Poly] and that is the best thing ever for me," when asked about the status of her commitment over the years.
While she is committed to playing softball and pitching for the Mustangs she has also expressed an interest to also join and compete for the rodeo team but that is something that she says is her, "hope" but "will see what the coaches have to say about that."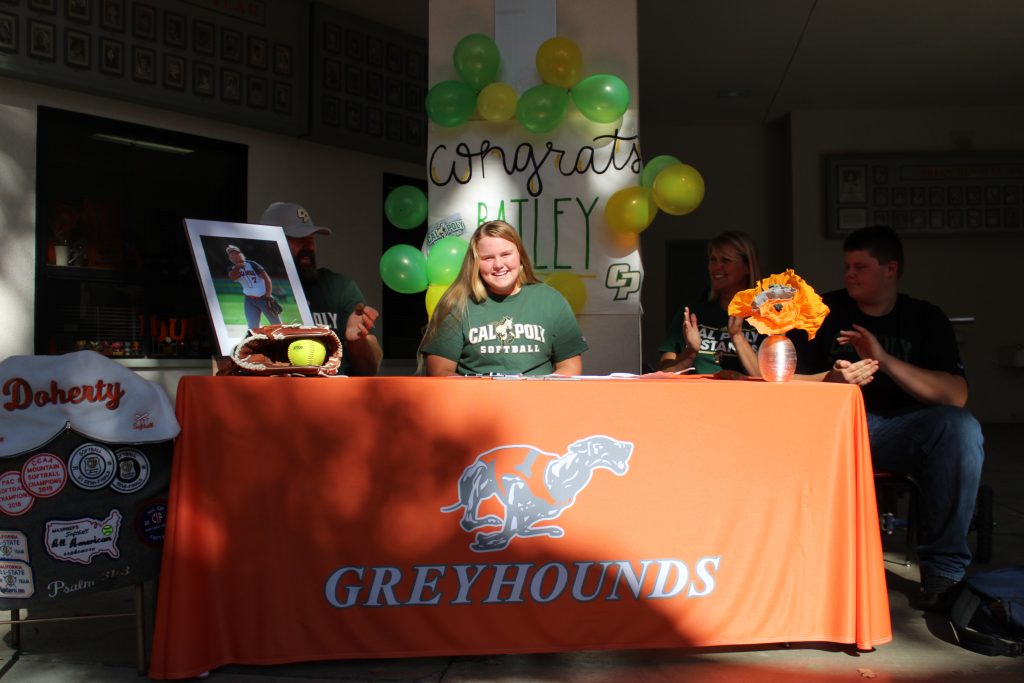 On the diamond, in the circle, Doherty's dominance has been unquestionable for the last two years and she has all but cemented herself as one of the top Greyhound pitchers in the program's history. She has spent all four years on varsity but rarely pitched a full game in her freshman season while she was still learning and maturing to the speed of the high school game.
advertisement

"As coaches, we always looking for that player we refer to that as a flamethrower, somebody with that special talent," Atascadero head softball coach Darrin Traverso said. "And when she came up as a freshman we just saw that she was young and raw and she had it."
Central Coast teams had only one year to get in their hits on Doherty, as a sophomore, she took over the everyday starting position and has gone 40-2 since. In her sophomore season, Doherty finished with a .75 earned run average, 282 strikeouts with a 20-2 record and led the Hounds to a 23-4 overall mark and four rounds deep in the CIF-SS playoffs.
Doherty also got her first taste of perfection her sophomore season as she threw her first perfect game on March 10, 2018, against Bakersfield-Frontier High School in a 2-0 victory. Doherty threw three perfect games her sophomore year and four no-hitters total, the senior currently has 10 no-hitters and five perfect games with still her senior season to go.
As a junior last year, Doherty led the Hounds once again going 20-2 this time with a .89 ERA and racking up 276 strikeouts and getting the Hounds just one win away from a CIF title shot.
The fireballing righty drew interest all over the country including schools like Kentucky and other Big 12 softball powerhouses but, as her sophomore year verbal showed, she always wanted to be close to home and always wanted to be a Mustangs.
Doherty will be the second Greyhound to join the Mustangs softball team in the past few years as she will join Sarah Wulf who signed with Cal Poly following her senior season in 2017.