This is take two this year for the Charles Paddock Zoo fundraiser
ATASCADERO — Folks headed back out to Charles Paddock Zoo for a second round on Saturday, Sept. 9, for the 10th Annual Brew at the Zoo. The 9th Annual Brew at the Zoo took place in late April of this year, but that didn't stop people from dressing like their favorite animals and coming out to try new brews.
"The event had an excellent turnout for being the second event in four months," said Deputy City Manager Terrie Banish. "It was about 25 percent less than that of April. It was a success as we still had more guests attending than we used to have at the earlier events five years ago."
Hosting two Brew at the Zoo this year was a strategic move as the zoo and the city have decided that the event will be held the Saturday after Labor Day weekend going forward.
advertisement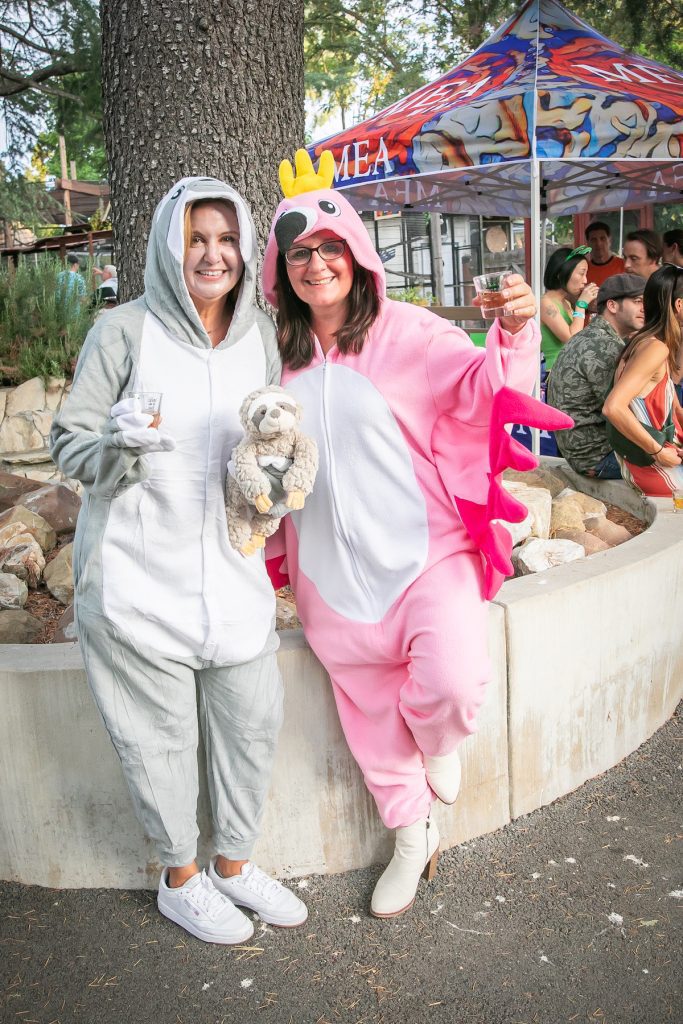 Nineteen of San Luis Obispo County's favorite breweries, wineries, and cideries participated in the night full of drinks and fun. Those adult beverage providers were Ancient Peaks Winery, Ballast Point Brewing, Black Market Spirits Central Coast, Bristol's Cider House, Cali Squeeze Seltzer, Central Coast Brewing, Eberle Winery, Firestone Walker Brewing, KiloKilo Brewing, Lone Madrone Winery, MEA Wine, Oak and Otter Brewing Company, SLO Cider Company, Spent Grain Brewing, Tarantula Hill Brewing, Tent City Beer Company, Tin City Cider, Tolo Cellars, and Wild Fields Brewhouse.
The entertainment was also a blast this time around, with live performances from RIFF Tide and solo artist Chris Beland, both of who were new to playing the event. DJ RRAMA was also the new emcee and brought the fun. On top of the fantastic live music, there was also a Hula Hoop Contest, Costume Contest, and even a Dance Contest.
"The contests are a hit, and guests love coming in their costumes," added Banish. "The usual onesies were a lot of fun, but I would have to give a shoutout to Wild Fields Brewing with Jacque's [Fields] bee costume and Ryan [Fields] being the wooly mammoth – super cute."
To go along with the delicious local brews, wines, and ciders, there were also food options available to everyone. You could find something yummy to pair with your drinks, from dinner to dessert. And thanks to the Atascadero Optimist Club, there were complimentary pretzel necklaces for all.
"The Friends of the Charles Paddock Zoo [also] had a great raffle to raise money for the zoo that was a hit and beautiful baskets too," Banish added.
Brew at the Zoo Take Two's presenting sponsor was Barley & Boar Brewhouse, with supporting sponsor Waste Management and friend sponsors 5 Star Rain Gutters & Mechanics Bank.
"Thank you to everyone who participated, from the guests who attended to the adult beverage and food vendors, entertainers, volunteers, and staff to our sponsors! It was another fantastic event supporting the animals," Banish said.
Same as with all the Brew at the Zoo events, all proceeds from this past weekend's event will go directly to benefiting the Charles Paddock Zoo. However, that total had not been tallied by the time this article was published.
Brew at the Zoo will be back on Saturday, Sept. 7, 2024.