277 Graduates Walked on Thursday
Thursday, spread out across Memorial Stadium, the Atascadero High School (AHS) senior class of 2021 celebrated their graduation and walked into their next phase of life.
The class of 2021 is the 100th graduating class from Atascadero, with the first one being held in 1921 when the school was then called Margarita Black High School. 
It was a picture-perfect afternoon with barely a cloud in the sky as 277 graduates donning long grey gowns, decorated caps, and their Sunday best clothing made their way into the stadium and into their seats with the band of their own peers playing lightly behind them. It was an efficient ceremony, but still a powerful one as many took time and reflected upon the especially difficult 15 months this senior class has endured with the COVID-19 pandemic. 
Senior class President Mia Perry kicked off the ceremony thanking family and friends and welcoming a nearly packed house to enjoy the proceedings.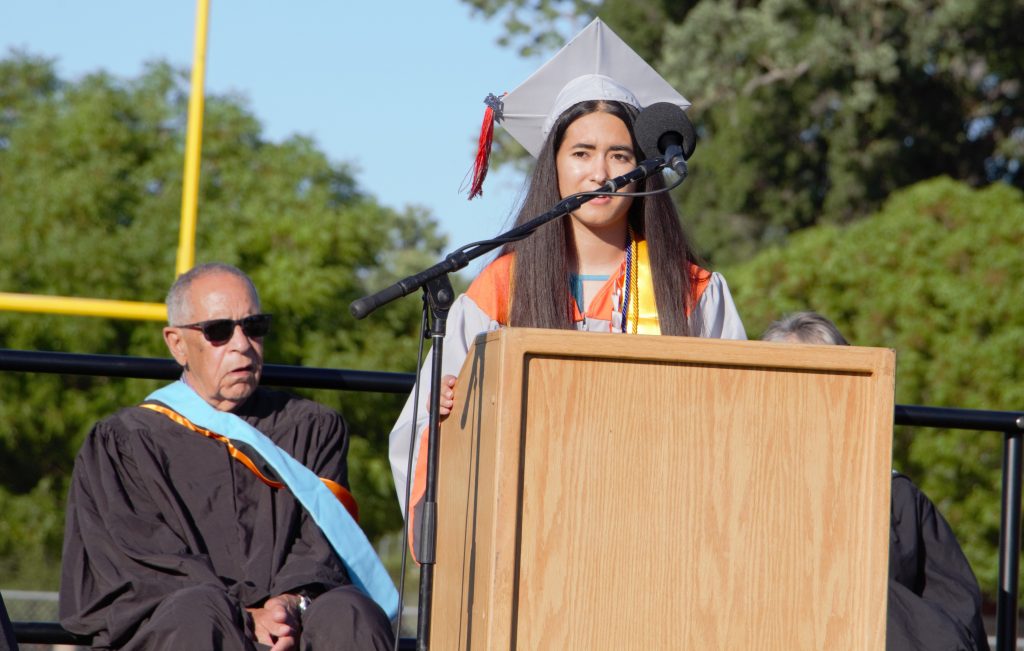 Principal Dan Andrus, who took over as AHS Principal this year following Bill Neely's retirement, came to the stage next and honored Aziz Basil, the Valedictorian, and Sean Reagan, the Salutatorian of the 2021 class. Only three points separated the two boys at the tip-top of the academic leaderboard as Basil finished his high school career with a 4.62 GPA while Reagan earned 4.59. 
Next senior Moselle Stieler took the stage to deliver her commencement speech. 
"100 years ago Margarita Black Communion High School first graduating class for students. Today in 2021, we, as what is now known as Atascadero High School, are the 100th graduating class, will now walk and receive our own diplomas. Of course, the school has seen great changes in the last century, yet I feel not nearly as many as the ones we have faced in these last four years alone," Stieler opened. "We have had to learn to navigate an entirely new platform [online learning] while dealing with screaming siblings in the background, forgetting to turn off your microphone, and sometimes just getting out of bed. Yet, somehow, despite it all, we have not only survived these hectic times, but we have managed to thrive. In these past few years, I have been amazed by the resilience my peers have shown in the face of instability and unknown."
Stieler touched on some of her favorite memories from her time at AHS and reminisced about a few of her favorite teachers, and beautifully wrapped up her speech with an inspiring message in "embracing the struggle."
Following Stieler, it was Andrus' time to address the graduates and families and took everyone on a delightful journey in his first graduation as the AHS Principal. Andrus spoke of natural laws, Newton, and even quoted Shakespeare while at the podium. 
"Graduates, I hope that your choices bring you success and happiness and joy. I hope that you get to suck the marrow from life and find fulfillment in the path that you pursue," Andrus said in closing. "Two of you recently taught me that simple pleasures are important, that sometimes the best choice is just to make a snowman. The world is yours; you will determine how your lives go as you make the choices and reap the rewards. Class of 2021, choose well and be happy."
Once every graduate had their diploma and a customary photo with one of the School Board of Trustees, the students returned to their seats as Perry returned to the stage for the moment everyone was waiting for. 
"Move your tassels to the left, and we did it, guys!" Perry shouted with excitement as caps flew into the area, and a crowd began barking like a pack of wild dogs in celebration of their newest crop of Greyhounds entering the beginning of the rest of their lives.
For those who missed the ceremony or may just want to experience it a second time, the entire ceremony was streamed online and available on Youtube next week.