Savings a priority for the school district heading into a potential recession
A clash of priorities and projected budget concerns challenge the Atascadero Unified School District as it manages the conclusion of the 2019-2020 year and planning for the upcoming year amidst a COVID-19 shutdown.
Looking to maintain stability in the district and meet essential needs, Assistant Superintendent of Business Services Jackie Martin opened the April 21 meeting with an update on meeting district needs and financial priorities.
The district reported a total of 20 full-time budgeted employee positions, which can be allocated among more than 20 employees by way of part-time employment opportunities.
Martin reported those positions have been open for most of the 2019-2020 school year, and with the state shutdowns of school districts, the urgency to fill those positions has been tempered.
advertisement

Among other financial savings, the district continues to audit where reduction of resources can be made, and expenditures curbed to prepare for a projected economic recession.
"I'm looking at all the allocations," Martin said, "all the 'stuff' we buy and see what kind of savings [we can make]. We put a spending freeze in place, and are only approving expenditures that are essential."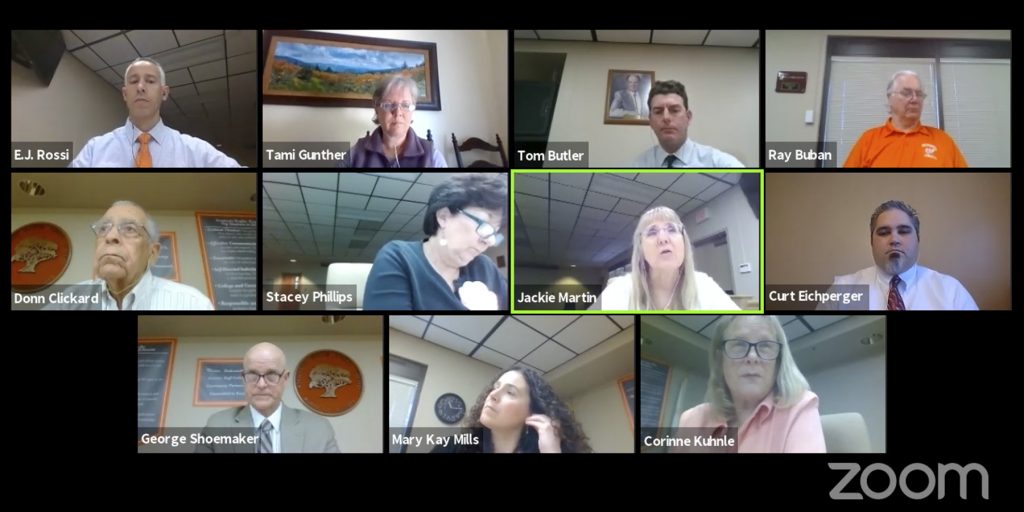 Martin said the district will wait until after July 1 to decide how to address future needs for the 2020-2021 school year.
"What we need for this school year, we are ordering it," Martin explained to the board of trustees. "If it is needed for the fall, we are not processing those at this time because we really don't know what the fall might look like just yet."
"We anticipate utility savings," Martin said. "We just had a conversation yesterday about turning off the heater to the pool — why are we heating the pool when nobody is using it right now?"
Turning off unnecessary heating and cooling systems across the campuses, including in-classroom refrigerators, are expected to help cut costs.
"I'm assuming there won't be any more trips this year," Martin said. "There are so many little things that won't have expenses that we will capture and put in our bottom line and compensate for the loss of revenue, as we are not quite sure what that will look like yet."
Martin compared the expected economic recession to what she and AUSD experienced from 2008 and drew on past actions the district made to manage a thinner budget.
She said, if needed, the school district will look for savings for the upcoming school years in everything from cutting travel budgets to vacuuming classrooms only once per week.
"These are times we have been through before," Martin said, "and was hoping we would never have to go through again, but we know it is doable."
AUSD Superintendent Tom Butler expressed his faith in Martin's experience as the district navigates the pending uncertainty.
"Your expertise is going to be pivotal," Butler said, "as we head into a recession. I want the board to be mindful that we are making one-time savings now … yet, when she talks about positions that will be kept open, those are savings that can be ongoing, and not require a layoff. That is a respectful way for us to move forward."
Butler continued, relating that financial dependency on State funds puts the district into a precarious position in planning for a 2020-2021 school year, with limited sight into what that budget might be. The district will proceed with caution.
"The state will probably not have anything [budget] out until the middle of August," Butler said. "It is likely we will start the next school year with some positions open, so we can be prudent until we know what real numbers are. We are being extremely cautious."
Instead of making needed hires, the district will hold off so that if budget revisions call for cuts, that newly hired employees will not be the future victims of early layoffs.
"One of the hallmarks of our district is strong fiscal management," Butler said. "What I can guarantee for the community. We are going to do everything we can to maintain programs but also pay our bills. That is what we do in Atascadero, and we are going to live up to that challenge."