JJ Subia has plans to participate in the 2023 Olympic Boxing Qualifiers
ATASCADERO — On Saturday, Mar. 5, as a last-second replacement, Atascadero amateur boxer JJ Subia jumped in the car with his dad and headed to Madera to participate in the final round of the Madera Throwdown.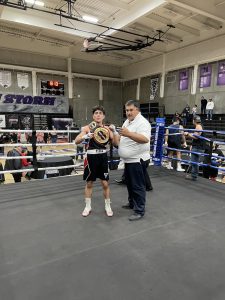 "The morning of, on Mar. 5, probably around 9 a.m., my dad got a call from the promoter out in Madera saying that their main event, one of the fighters, pulled out of the main event," said Subia of the day's events. "They were saying, 'Hey, we know that you guys are open and looking for a fight. Would you guys want to come out and fight?' And so I and my dad immediately hopped in the car and drove the three or four hours out there to Madera, and [I] fought in the main event."
Subia fought MMA fighter Tim Gutierrez and won the Madera Throwdown's main event, bringing the Central Valley 132-lb title home to Atascadero.
"I let my hands go. Hit him with a bunch of good shots," Subia said. "I think I got hit less than five times throughout the whole fight. Which is perfect and exactly what I want to do. I want to hit, not get hit."
"[I] finished the fight strong. Had a good last round, which I really think made it [the win] even more clear. I love to finish strong in every fight. Leave it all out there."
Subia, who's been boxing for a little under a year, had his first fight in August 2021, just a couple of months after graduating from Atascadero High School. He's participated in seven fights in that short time, and now that Subia has his first title win, he will be able to get bigger fights.
"We had been trying to get on this fight card for the last two months. Actually, we've been trying to get a fight for the last two months," said Subia's father, Jo. "They host this show once a year and try to get all the best from around the Central Valley."
Subia's uncle owns Knock Out Boxing Gym and Fitness in Paso Robles. This is where Subia started training right when COVID-19 hit, and team sports became sparse due to the resulting protocols.
"I found boxing right when COVID hit. It was perfect timing for me because I feel like I was in a place where I wasn't really sure what path I wanted to take, and then boxing came right at my feet," Subia said. "It was definitely more of an individual sport. I like that a little bit more because, how I see it is, I can't blame anyone else for anything I do wrong in the sport, or any losses, or any mistakes. It's all on me and the work that I put into it."
Subia will be competing in a large tournament in Las Vegas in May and an Open National tournament in Texas this summer. And he's got his sights set on competing in the Olympic Qualifiers in early 2023.
"For my amateur career, we're looking to compete in the national tournaments that are coming up later this year," he said. "Olympic Qualifiers are also starting next year. That's my goal. I want to compete in the qualifiers and hopefully make it into the Olympics one day."
To be a part of the Olympic Trials and the Olympic Qualifiers, Subia will need to have competed in at least 15 fights. And with seven already to his name, he's on track to gain that amount before next year.
"Through my uncle, and all my family, and their support, I found boxing, started training, and really just took a passion to it," Subia said. "I really, really just love everything about it. Train every single day, getting my runs in the morning, boxing later in the day. Just fell in love with it, really."