Jake and Anya Knotts are helping get Ukrainians safety to neighboring countries
ATASCADERO — On Sunday, Mar. 20, Wild Fields Brewhouse held a Maker's Market from 12 to 3 p.m., with proceeds from sales going to a local-run relief effort in Ukraine.
"We did a podcast with Jaime Lewis from 'Consumed,' and then her newsletter, when it came out, included a blurb about Jake from Midstate Containers because he's one of the podcast sponsors, and it was just really brief," said president and co-founder of Wild Fields Jacque Fields. "It was, you know, he lived there [Ukraine] for 10 years, his wife is from Ukraine, they had their children there, and they're on the ground helping families."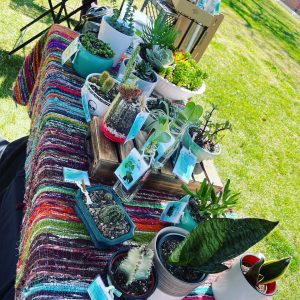 "Consumed" is a podcast created by Lewis, a San Luis Obispo resident. She interviews makers, eaters, and drinkers about food and culture across the Central Coast and the rest of California. Lewis also attended the Maker's Market to show support for the Knotts.
"Jake [Knotts] and I both grew up in Nipomo, and our families are close," she said. "I watched him travel to Ukraine as a missionary many years ago, where he met Anya (who is Ukrainian). They've been back in SLO County quite a while now, but when Russia invaded Ukraine, my mom forwarded me a message from his family saying he had left to help Anya's family cross the border into Poland.
"Since then, Anya has joined him, and they are effectively helping people cross the border every day: getting Airbnbs for people who need to recover after waiting for days in their cars in the snow to cross to Poland, buying vans, importing fuel, medical supplies, etc. They have amassed a team of friends from Ukraine and the U.S. to work really hard, every day, to take care of those who need it."
Knotts and his wife lived in Chernihiv, Ukraine, for over 10 years doing mission work. Jake, originally from Nipomo, married Anya from Kyiv, Ukraine, 16 years ago. They have three kids, who they left in the U.S. when they went to help get Ukrainians safety to neighboring countries.
Fields was inspired by Jake and Anya's story and wanted to do something to help them out with their relief efforts.
"I was like, 'I don't have anything to give, but what can I do? What can I do? Can I have a fundraiser?" said Fields. "We reached out to all the vendors we've been doing Maker's Markets with and told them we wanted to put together a little market and do proceeds and just try and get them [The Knotts] some money to help them out."
There were ten vendors at the Maker's Market on Sunday.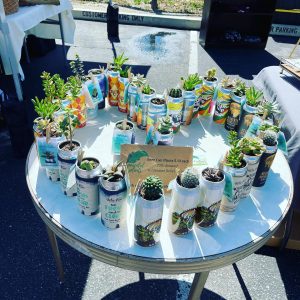 "We will be working in European countries bordering Ukraine to set up refugee housing, provide food and medical care, assist with transportation, childcare, documents, and whatever other needs arise," said Anya Knotts on their fundraising page. "We are simply a Ukrainian/American family and have many relatives and close friends still in Ukraine, fighting in the Army, besieged in their cities, or moving west to get out; we, at the bare minimum, want to be here for them when they arrive in a foreign country with nothing."
Wild Fields Brewhouse raised $662 themselves, with the other vendors donating their proceeds individually to the Knotts, who are currently on the ground in Poland.
To follow along with The Knotts' journey and to see what you can do to help with their relief efforts, follow Jake's Instagram handle: @jakefrommidstate.