SAN LUIS OBISPO — Tim Walsh, who guided Cal Poly's football program to a Big Sky Conference championship in 2012 and a pair of NCAA Division I Football Championship Subdivision playoff berths, announced his retirement Monday after 11 seasons at the helm.
"On behalf of our department staff, and the hundreds of young men who have received the benefit of Tim's mentorship, we thank Tim for his leadership over our football program," said Cal Poly director of athletics Don Oberhelman.
Walsh compiled a 176-148 win-loss record in 29 years as a collegiate head coach, including a 59-66 mark at Cal Poly. He also served as head coach for 14 seasons at Portland State (1993-2006) and four at Sonoma State (1989-92).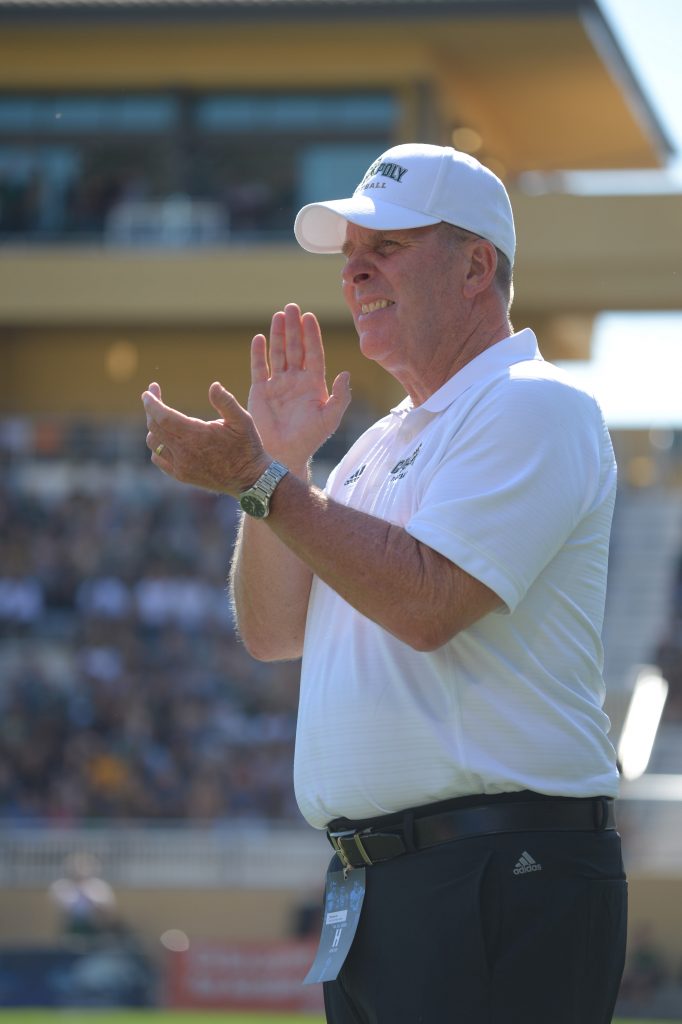 Hired on Jan. 9, 2009, as Cal Poly's 16th head football coach, Walsh led the Mustangs to back-to-back titles — in the final year of the Great West Football Conference (2011) as well as in Cal Poly's first year in the Big Sky Conference (2012).
advertisement

The Mustangs are 32-32 in their first eight seasons in the Big Sky. This fall, Cal Poly shared ninth place with four other teams, all with 2-6 marks, and the Mustangs were 3-8 overall, playing five schools that have qualified for the FCS playoffs in addition to Cal Poly's second game ever against a Pac-12 school.
Under Walsh's direction, the Cal Poly football team has led the Big Sky Conference in its Academic Progress Rate (APR) scores each of the last three years.
The Mustang football team, which compiled a near-perfect 997 APR for the 2015-16 school year and 978 last year, compiled a four-year rate of 975 from the 2015-15 through 2017-18 academic years, which is 11 points higher than the national average for Division I football.
"The academic standing of this football program is top-notch, and the APR and graduation rates reflect the high expectations we have as a university," said Oberhelman.
A 1977 UC Riverside graduate, where he played football as a quarterback, Walsh has served as offensive coordinator at Army West Point (2007-08) and Sonoma State (1987-88), defensive coordinator at Santa Clara (1986), head coach at Moreau Catholic High School (1981-85) and as an assistant coach at Serra (San Mateo) High School (1977-80).
Inducted into halls of fame at both Portland State and Sonoma State, Walsh was a finalist for the Eddie Robinson Award (FCS Coach of the Year) in both 1999 and 2012.
A national search for the next head coach will begin immediately.