Merran Grindley scores 6 goals against rivals
TEMPLETON — The Templeton Eagles girls soccer team bounced back to their winning ways on Wednesday night, defeating the Morro Bay Pirates 3-0 and completing the season sweep of their rivals.
A little over a week ago the Eagles played the Pirates for the first time in league this season and powered past them on the strength of Merran Grindley's legs. Grindley earned a hat trick, plus one, in the first half of their 5-1 victory. Wednesday night, Templeton hosted their leg of the rivalry and again cruised to a win with reigning Ocean League player of the Year, Grindley, scoring two more goals.
"Dot [Nickel], their goalkeeper, is one of my really good friends," Grindley said. "She plays on my club team so just having that competition with her, it excites me. I always talk to her during the game and will tell her, usually when she saves my goals, 'That was a great save, Dot. Good job,' but even when it's not my goals too."
The runaway league champions from a year ago have been hot and cold this season and currently sit in fourth place in the Ocean League at 2-3 behind Nipomo (5-1), Orcutt Academy (4-1) and Santa Maria (4-2).
advertisement

While the girls have struggled to find their offense this season it seems they have the Pirates number and might have them to thank for reigniting the offense.
"We have been hot and cold ourselves so this was a game where we played well and passed well but it was very unlike the game we played in Santa Maria," Templeton head coach Mario Perez said. "We were successful against them the first time and when we went down there we just had one of those games. It felt good to get back to winning and I think we are starting to do some of the things that we have been working on in practice."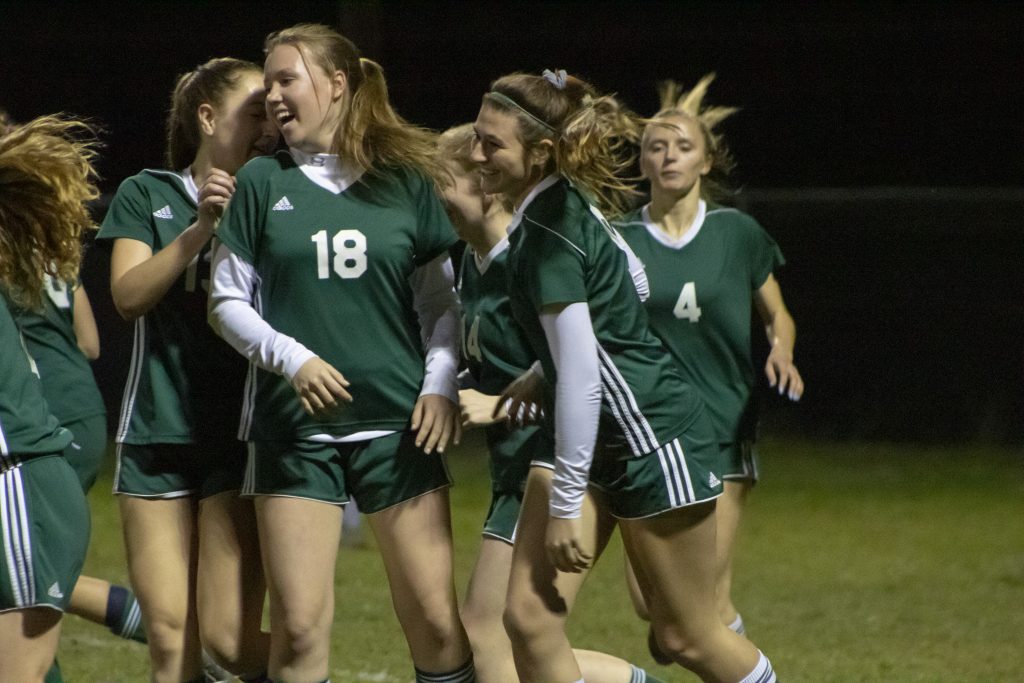 For the first ten minutes of the game, both teams took turns controlling the possessions and making runs into opposing territory but neither could capitalize. However, The Eagles speed outside with Grindley, Lauryn Simons and Emily Puita started presenting problems in the first half as both Grindley and Puita just barely missed goals. With about nine minutes to go in the half, Perez made a substitution, bringing in senior Megan Ingle. Three minutes later, Ingle found the ball at her feet with nothing but the keeper in front of her and scored to give the Eagles the early 1-0 lead.
"I like playing against Morro Bay," Ingle said. "Obviously they are our rivals and that pumps everybody up and we all want to beat them so everyone plays hard and it makes for really exciting games."
The Pirates might have controlled more of the possessions through the first half but it was the Eagles' deadly counter-attacks that kept everything even until halftime.
After a brief chat with their coach at halftime, the Templeton girls took over in the second half. Grindley scored her first goal of the night just ten minutes into the half to extend the lead to 2-0. She notched her third after Simons drew a foul in the penalty area and Grindley finished it with her left leg giving her six goals in her last three games.
"I think I have finally found my rhythm," Grindley said with a sly smile. "So I am happy with myself and I don't know, I just have Morro Bay to thank for that."
Next up, the Eagles will travel to first-place Nipomo on Friday and will host Orcutt Academy on Tuesday night. Three of the last four games against the Spartans have needed overtime to be decided.