Five athletes set for Spirit Spectacular at Disney World
ATASCADERO — Six of Atascadero High School's (AHS) senior cheerleaders are headed across the pond at the end of the year to perform in the All-American by marching in London's New Year's Day Parade. While five athletes, including two headed for London, will perform at the Spirit Spectacular in Florida at Disney World at the end of November.
"All-American is an event in London where they cheer at the New Year's Day Parade. They tried out at cheer camp. So they see this tryout since they're freshmen essentially, if they're on our team. So it's like a culmination of all their hard work, trying to make sure that they do a good tryout," said AHS's Head Cheer Coach April Schaefer.
She added that trying out for All-American also gets AHS's graduating cheerleaders ready and preps them for things like college tryouts and further tryouts in their cheerleading careers. And just like last year, six girls made the All-American team.
advertisement

"That's a pretty big number. Usually, there's only a couple from each team, or like years past, we've only had a couple of each," stated Schaefer.
Cheerleaders Priscilla Muneton, Gabi Pullen, Shae Mansfield, Ambrea Fredrick, AnaJane Soto, and Mya Neilson will head over to London from Dec. 26 through Jan. 2, 2024, to perform with other student-cheerleaders from all over the US who also landed spots at their respective cheer camps.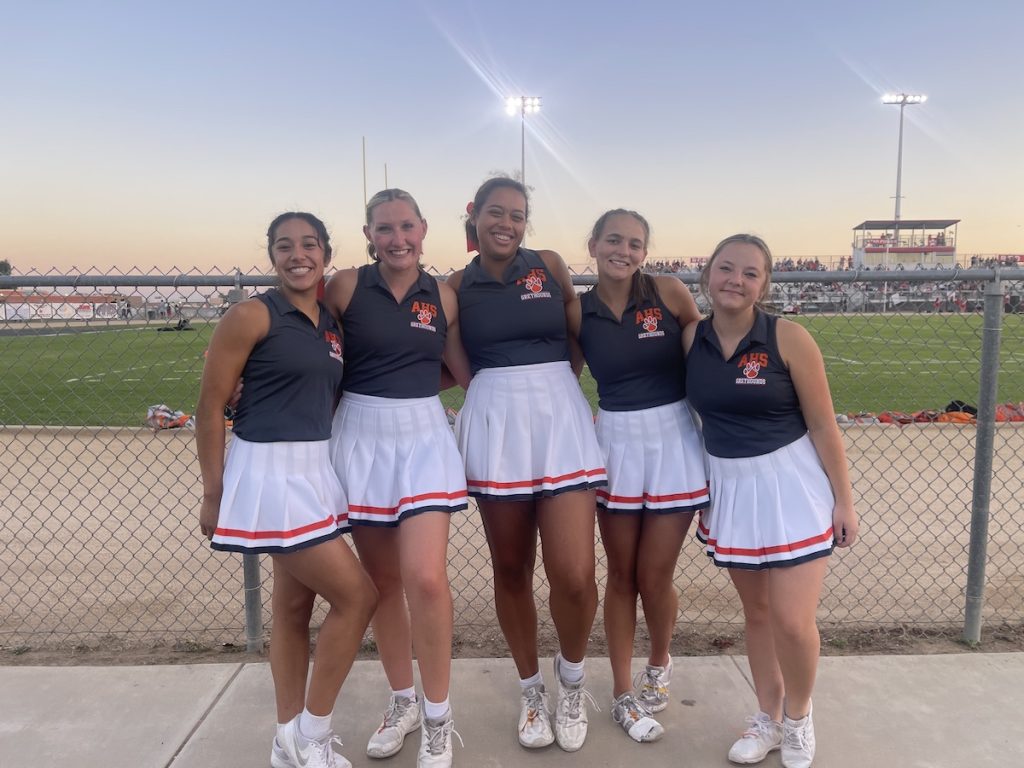 "At first, it was trying out with everybody. It was a fun experience because the whole team was trying for one thing because it's crazy, just a bunch of Americans going to London, just walking around shaking pom-poms," said cheerleader Shae Mansfield of the tryouts at cheer camp.
Mansfield added that thirty minutes before tryouts, she had an unfortunate accident when she ended up breaking her nose. But even though her nose refused to clot and she was in pain, she still tried out four hours after everyone else had finished. And it worked out because now she gets to go to London.
"It's so much fun. It's like a whole other group of friends that I get to see every day and work hard with to put out the best stuff we can. It's just a great family to have," said Mya Nielson, who's also going to London on being a part of AHS Cheer. "I've wanted to go to London for years. I've gone through the airport on other travels, but I've never got to leave it."
All six girls who are headed to London have never been there, and this will be their first time exploring all that the exciting city has to offer while also getting to represent Atascadero in the UK.
"I'm so excited. I've always wanted to go to London. It's going to be my first time out of California, actually," stated cheerleader AnaJane Soto.
From November 17 to 20, Gabi Pullen, Shae Mansfield, Sierra Robinson, Kyra Ladd, and Kate Van Cleef will journey to Orlando, Florida, to participate in the Varsity Spirit Spectacular at Disney World. This holiday event showcases senior cheer captains from across the United States.
"It's supposed to be like a leadership event for them to go bond, and it's kind of their last year as a cheerleader, last parade type of event," added Schaefer. "They have super impressed me and really come into their seniorship. They're great leaders. They all help each other and help other people. It's been nice to see such strong female leaders."
While at Disney World, the athletes will be able to explore all four of the parks and bond as a group as they prepare for graduation in 2024.
"It's just wonderful to be given the opportunity to even get to go on this trip, especially since I never thought I'd be part of such a wonderful and beautiful team. So, getting to go with all my best friends our senior year, I'm just so excited, and I can't wait," cheerleader Kate Van Cleef said on participating in the Varsity Spirit Spectacular.
"I'm very excited because this is the only time I'm ever going to do it, and so I'm very excited, and I've never been to Florida or Disney World," added cheerleader Kyra Ladd.
Seven of the nine cheerleaders are currently running GoFundMe sites to help raise money to get them to London and Orlando. Pullen and Mansfield will be attending both parades.
"Looking at the GoFundMe overall and seeing how much money's been raised in the past month is crazy. I think that just really opens my eyes to like to see how much I have a community around me even though I don't see it all the time," added cheerleader Gabi Pullen, who will be attending London and Orlando.
To support our AHS cheerleaders and help send them to the parades, head to their GoFundMe links:
Shae Mansfield: gofundme.com/f/lets-get-shae-to-london.
Gabi Pullen: gofundme.com/f/gabis-allamerican-cheer-dream.
Ambrea Fredrick: gofundme.com/f/ambreas-all-american-london-funds.
AnaJane Soto: gofundme.com/f/cxhus-help-me-get-to-london.
Mya Nielson: gofundme.com/f/help-me-cheer-in-london-this-winter.
Sierra Robinson: gofundme.com/f/help-sierra-go-to-orlando.
Priscilla Muneton: gofundme.com/f/help-fundraise-money-for-all-american-cheerleaders.
Feature Image: Atascadero High School senior cheerleaders (left to right) Priscilla Muneton, Gabi Pullen, Shae Mansfield, Ambrea Fredrick, AnaJane Soto, and Mya Neilson pose in front of the Greyhounds football field. Contributed Photo.