Excess dirt will be re-used by the Santa Lucia Sportsmen's Association on its range in Atascadero
CENTRAL COAST — Volunteers from The Holloway Group and Team Rubicon spent much of Saturday helping remove more than 200 tons of debris and dirt from the flood-plagued Cardoza Ranch in Oceano.
All 12 acres of Pat and Vickie Cardoza's ranch was flooded — by as much as 10-15 feet of water in some areas — in mid-January when storm runoff in Arroyo Grande Creek ran over a failing levee and flooded their home and farmland south of Oceano.
Because the Cardozas were located downstream near where the creek meets the dunes and ocean, their ranch saw a brunt of the damage, with mud, wood, trash and debris washing onto their ranch from miles upstream.
advertisement

Volunteering its hauling services and workers in the cleanup effort, Holloway brought in four semis that hauled away about 200 tons of dirt, which will be re-used by the Santa Lucia Sportsmen's Association on its range in Atascadero, as well as for flood control and erosion repairs at vineyards in the North County.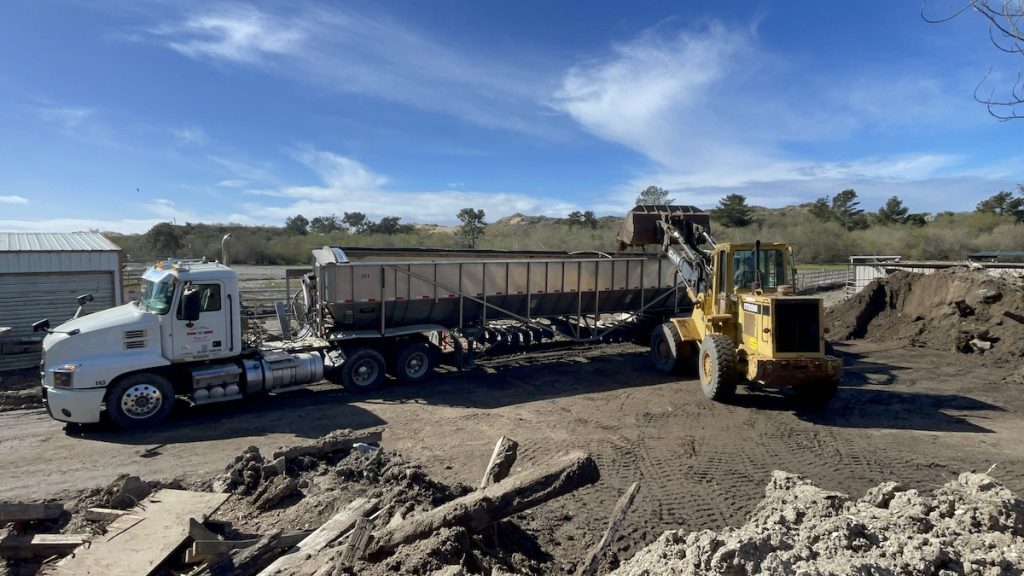 "Ninety-nine percent of this material came from somewhere else. It didn't come from their farm, but it all came to their farm, flooded in here, and now they're having to deal with it," said Brian Maxted, CEO of Holloway, an agriculture and environmental services company with offices in Paso Robles and Bakersfield.
"We're happy to do our part," he added. "I know there's a lot of people in the county and in California, when the rains hit, that had flooding issues and we heard about this so we jumped on it."
Team Rubicon, a nonprofit made up of veterans that provide disaster relief to communities, also brought in a dozen local volunteers to help clean up debris, trash, and scoop out mud from their stables and other areas of the ranch.
"We're just trying to provide some help for Pat and his family here, because they took a big hit," said Denny Johnson of Team Rubicon. "We're not self-serving at all. We feel good when we're able to help someone else, and that's always a good feeling. At the end of the day, we got something done for those people, and that's what's really going to matter."
Organizers said cleanup on the property will continue over the weekend. But there is a long way to go before the ranch is back in working order, Pat Cardoza said from his tractor, between moving loads of mud from the stables. Cardoza and his son-in-law Jeff Ward ran the tractors that loaded mud and debris all day, and thanked the volunteers for coming out to help with the cleanup.
"It hits me right here," Ward said, patting his chest while talking to volunteers. "I know what it takes and costs to bring in trucks nowadays, and it's not easy getting in here, so we really appreciate the help we've been getting."
The Cardozas said more than 50 livestock animals from the ranch were displaced by the flooding, although they are slowly making it back to the ranch as things dry out and debris is moved, making the roads to the various areas of the ranch passable by trailer for the first time since mid-January.