The Kiwanis Club of Atascadero's annual Mayor's Winemaker Dinner was forced to move its popular auction online amid the COVID-19 pandemic and raised $70,000 — $55,000 of which is going toward Atascadero Loaves and Fishes food pantry.
In years past, including last year's 50th anniversary of the club, the Mayor's Winemakers Dinner auction is one of North County's most popular fundraisers. It has raised money for local organizations like the Charles Paddock Zoo, Boys and Girls Club of North San Luis Obispo County and the El Camino Homeless Organization.
Kiwanis was forced to get creative this year as they moved to a virtual auction and had their efforts rewarded.
The fundraiser minus the catered dinner was planned for and executed on June 26. Typically it fundraises all of the money in a one-night event where businesses and people in public buy tables, enjoy a fabulous meal with a few drinks before eventually walking around and participating in silent and live auctions full of price points for every interested party.
advertisement

With no ability to gather together this year, the Winemakers Dinner moved online and found a way to get the giving community to do the same. Slowly but steadily, through the help of a couple of online videos on its Youtube channel, Kiwanis got everyone interested all signed up and ready for the auction, which opened on June 19 and continued with the final bidding on June 26.
Online, eBay-style fundraisers have started to become more commonplace as the pandemic reaches its sixth consecutive month. However, this one came with a little spin as bidders could see who just outbid them, which helped keep up some healthy rivalries as the small-ticket items saw a significant increase in closing price.
Some of the larger-ticket items, such as date nights complete with dinner and a night's stay at local hotels such as The Carlton and Holiday Inn saw decreases in their overall selling point but with such low overhead due to no dinner being provided the Kiwanis and Loaves and Fishes still came out on top.
What made the night even better was the funny live show that Doug Filipponi and Jim Lewis put on for two hours on June 26. While neither of the two men could see who or how many people they were speaking to, the pair kept going in what felt like one of those televised telethon fundraisers from the 1990s and early 2000s.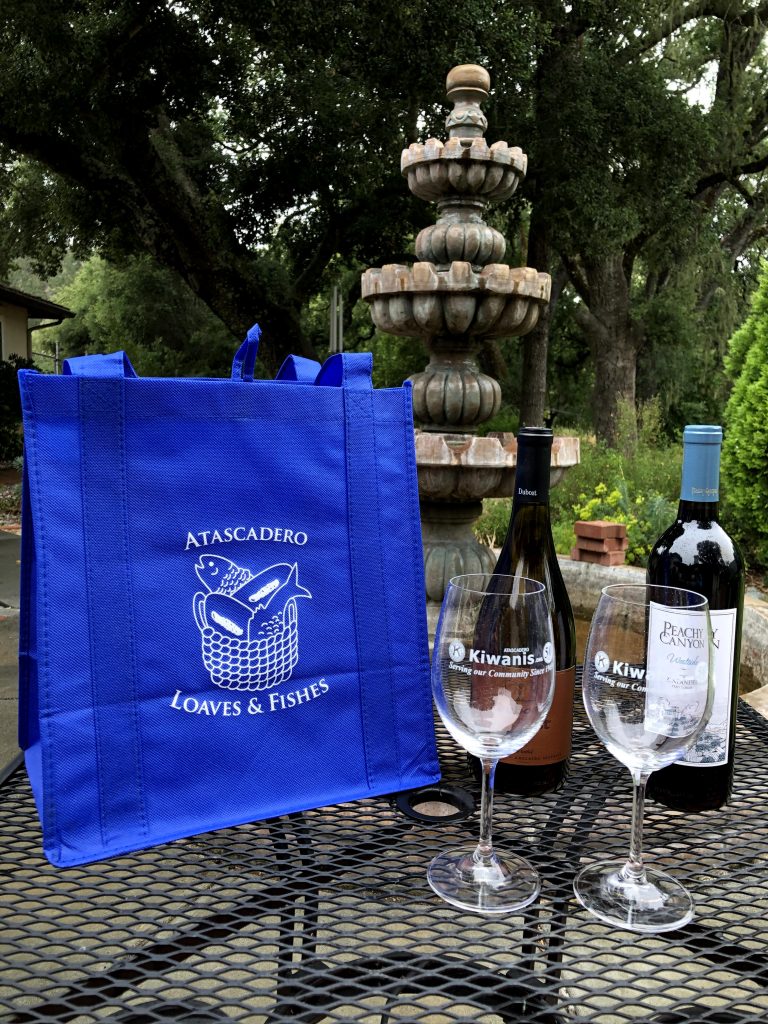 While choosing Loaves and Fishes as the primary recipient during the middle of a pandemic seems like a no-brainer for 2020, the Kiwanis Board of Directors already had the local volunteer organization picked long before anyone was wearing masks or socially distancing.
"It was very fortunate this time to raise money for this particular cause at this particular time," said James Rikel, a 10-year member of Kiwanis. "Because it was so easy for people to understand and to wrap their heads around why the need is there."
The remaining $15,000 will go back to Atascadero Kiwanis to provide grants and funding for other various events and organizations in Atascadero.
"We, in general, don't do fundraising," Mary Alice Chisholm, and Atascadero Loaves and Fishes representative said. "It's all about food, so this was a godsend to have Kiwanis working with us."
The $55,000 will help the Atascadero food pantry continue to serve those needing assistance within the community and help them as they begin their search for a new, larger building to accommodate the growing need around the County. Atascadero Loaves and Fishes is in the preliminary stages of looking for a new home.
"What we are doing with this particular money is, we need a bigger facility," an Atascadero Loaves and Fishes representative stated. "So it is all going to go into funding the process of finding and acquiring a new building."