Four Central Coast Artists who are making waves with their unique perspectives and artistic creations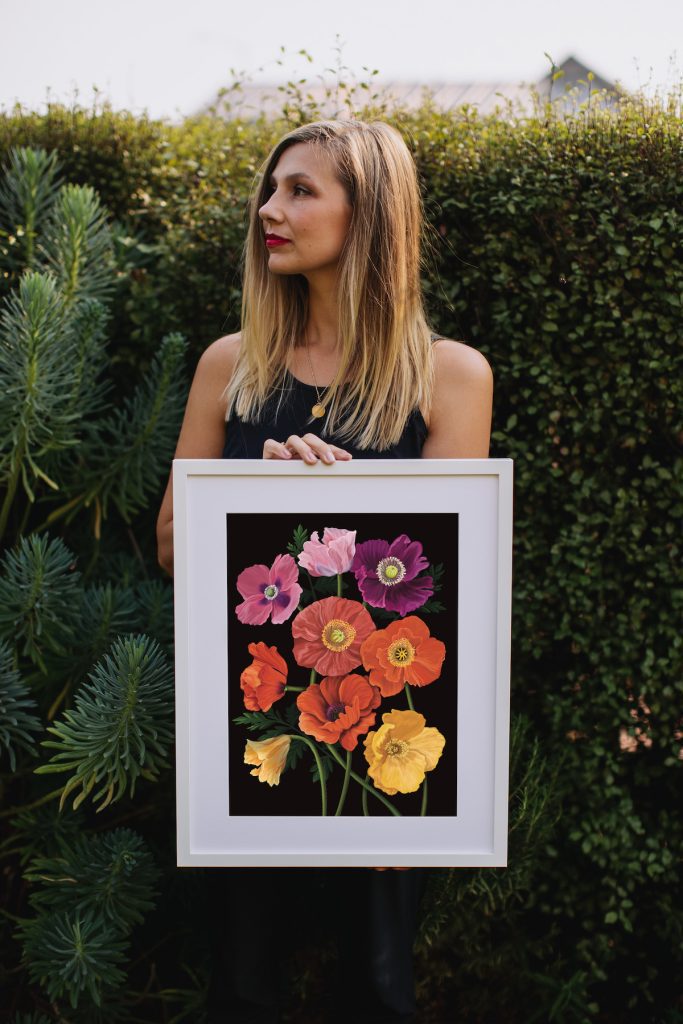 Jenna Hartzell: Atascadero
Jenna Hartzell started her artistic career in elementary school when she wanted to get her ears pierced. Her parents told her the only way that was happening was if she wrote and illustrated a book.
"I was like, done! I, of course, did The Little Mermaid or something like that and went with my Grandma to get my ears pierced," said Jenna.
advertisement

It was at that moment that she realized you could make art for a living, and from that moment on, she drew on every surface she could find. She majored in Art History, and her need to create led her to become a graphic designer so she could make a living while still being creative.
It was in 2020 when Jenna, who moved to Atascadero 15 years ago, bought an IPad with Procreate on it that opened up her personal artistic endeavors to digital art. Jenna is currently creating beautiful floral art, including a series of birth month flowers.
"I think I'm at that point where I'm just scratching the surface of what I want to do creatively, but it feels really good to be creating consistently," Jenna added.
You can find Jenna's art on her website at honeyjocreativeco.com.
Zoya Dixon: Templeton
Artist Zoya Dixon made her way to Templeton, where she lives with her family, by way of Chicago. Though she might not have a traditional artistic background, it hasn't stopped her from creating one-of-a-kind paintings.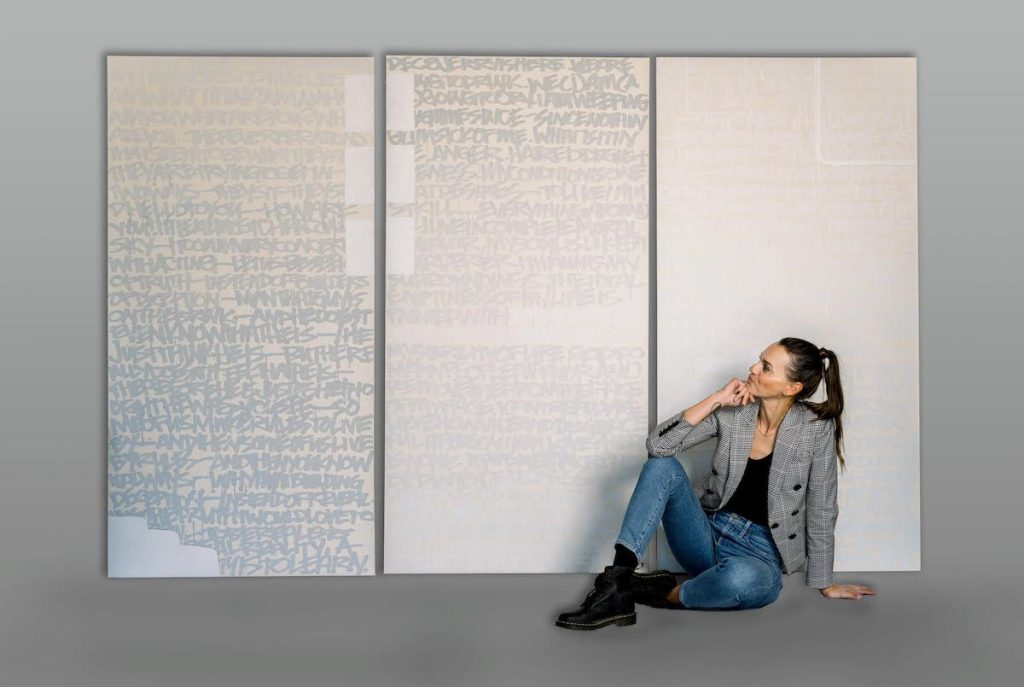 "I have always been drawn to art and creativity, even as a young child," added Zoya. "Art has always been something I've been drawn back to, especially with the flexibility of making my own schedule and being my own boss."
Zoya's art is greatly influenced by a trip to Las Vegas, where she went to see Ugo Rondinone's art installation, Seven Magic Mountains. It inspired her to start painting with bold colors and stacking shapes on top of each other.
Her art took another turn when she was connected with her brother for the first time.
"We met two years ago. He's also artistic, so we started to collaborate where he does a graffiti background or some lettering in the background, and then I'm doing the stacks on top," stated Zoya.
You can find Zoya's art on her website at zoyadixon.com.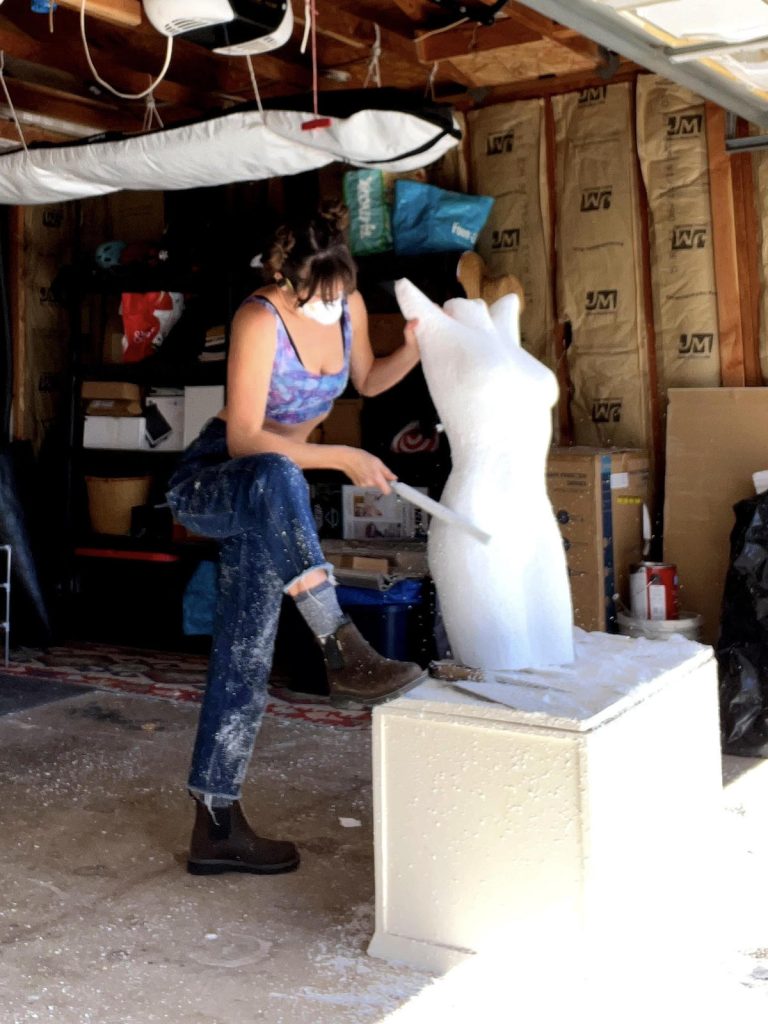 Chloe Joy Evers: Paso Robles
Chloe Joy Evers grew up on the Central Coast. Daughter of Dale Evers, she's been creating art since childhood, but it wasn't until after college that she started sculpting her own creations.
"I grew up around it [art] because my dad's a sculptor, and I was homeschooled, so I got to go to the shop almost every day and travel and go to art galleries. I think that it's something that I just had high exposure to my whole life," Chloe shared.
Chloe, who's been doing metal work for five years, has now set up her own studio in her garage, fully equipped for silver smithing.
"I work primarily with sterling silver, and in addition to that, I'm working on my first three-dimensional stained glass mosaic sculptures in my garage right now," she added of the life-sized woman's bust.
She started the unique sculpture back in October of 2022 and will be adding hand-forged stainless steel lilies around it once the mosaic is completed.
You can find Chloe's art on her website at chloejoyeversdesigns.com.
Staley Pearl: Atascadero
Staley Pearl was surrounded by art since birth and was raised by a mother who was an artist herself. It wasn't until her mom died nine years ago that Staley started to create her paintings.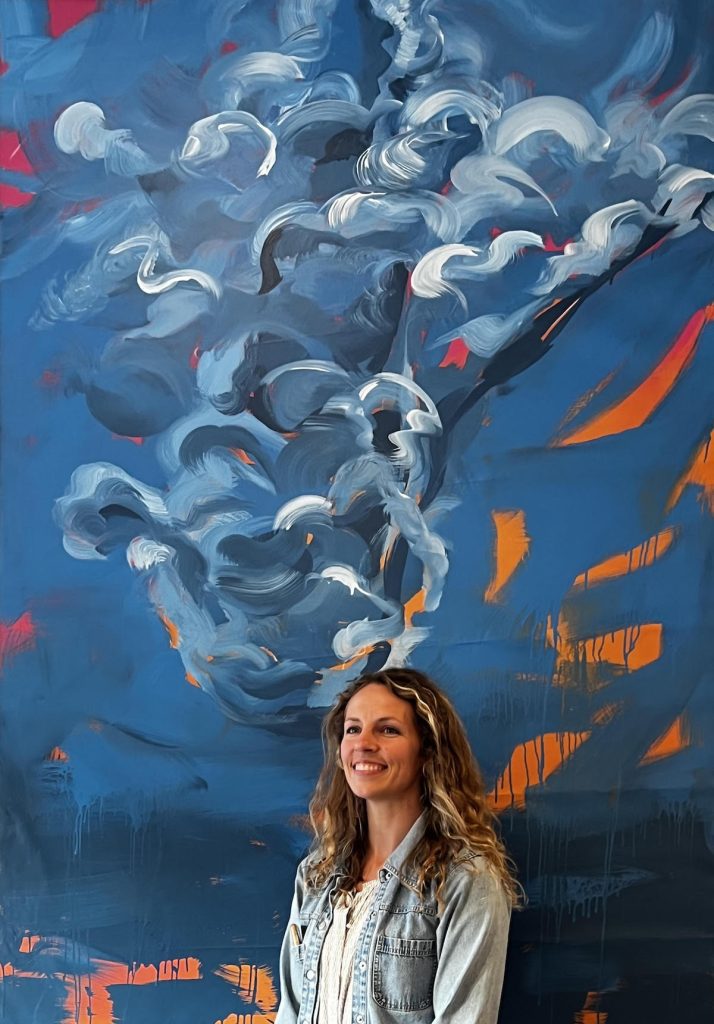 "I inherited all of her paints, and I just started painting," said Staley. "It just felt like a normal way of grieving frankly and a good way to connect with her, and then I really started to enjoy it."
Now Staley, who grew up in Tennessee before making her way to Atascadero, is doing art full-time. In fact, she loves to create art that is specific to Atascadero.
"I think Atascadero is more beautiful than people give it credit for," she added.
Staley wants to encourage anyone thinking about painting to try it, as it's been something she's come to love.
"I hope to encourage people to do it for the sake of doing it, because it's really, it's awesome. It's nice to have a world that's a little more beautiful," Staley concluded.
You can find Staley's work on her website at staleythepearl.com.
ATASCADERO NEWS MAGAZINE
Copies of Atascadero News Magazine are directly delivered to 11,500 readers in zip codes 93422, 93432, and 93453 and 1,500 dropped with support from advertisers and subscribers. Together, we are Making Communities Better Through Print.™
To subscribe or advertise, click here.