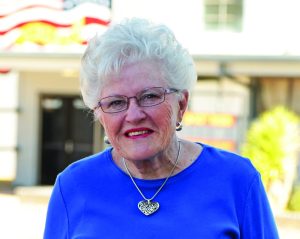 Last Saturday might have been an overcast day, weather-wise, but it did not dampen the spirits of friends and family members who gathered at the Sanchez home in Atascadero to celebrate Frank's 95th birthday.
The "Backyard Birthday Celebration" was hosted by Frank's children, Dana, Doriana, Mara, and Steve. One of the highlights of the afternoon event was the surprise arrival of Mara's daughter, Mikayla, and her daughter, Camilla, from their home in Texas. Cameras were clicking to get pictures of the honored guest with his daughter, his granddaughter, and his great granddaughter. It was wonderful that the four generations were able to be together for such a memorable occasion.
Along with Jeannie Malik and many other volunteers, Frank was instrumental in making "Dancing With Our Stars" a phenomenal success. Thank you, Frank, for sharing your dancing talent with our community, and again, Happy 95th Birthday!
Frank's birthday cake was a delicious carrot cake. In honor of Frank, the recipe I'm sharing this week is Jeannie Malik's Carrot Cake recipe that she gave me several years ago. I shared it right after she gave it to me, but if you missed it then be sure to try it this time. I usually don't like to repeat recipes, but this one is worth repeating.
advertisement

Jeannie Malik's Carrot Cake
(Pleasing tummies with this recipe since 1971)
Ingredients:
Sift together the following and set aside.
2 cups flour
1 1/2 teaspoon salt
2 teaspoons baking soda
2 teaspoons cinnamon
1/2 teaspoon nutmeg
Directions:
In a large bowl beat 3 eggs well. Add 3/4 cup oil, 3/4 cup buttermilk, 2 cups sugar and 2 teaspoons vanilla. Mix well. Add the sifted dry ingredients. Blend well. Add 1 small 8 ounce can crushed, well drained, or 8 ounces fresh pineapple, well drained, 3 1/2 ounces shredded coconut, 2 cups freshly grated carrots, and 1 cup chopped pecans. Mix well. Pour into greased 9×13 metal pan and bake for approximately 40 minutes in the center of preheated 350 degree oven. (Glass pan bake at 350 degrees for a bit longer.) Cake is done when a toothpick inserted in the center comes out clean.
Once cake has cooled mix together:
1 cube butter, softened
8 ounces cream cheese, softened
1 box powdered sugar (1 pound)
1 teaspoon vanilla
Spread cream cheese icing on cake and sprinkle all over with coconut. Store in refrigerator.
Note: Jeannie adds that for birthdays, she makes round layer cakes, lining the pans with wax paper and baking for less time.
It's not too early to start thinking about October and Halloween. This next simple recipe would be great for a gathering of ghosts and goblins, no matter what age.
Spooky Joes
Ingredients:
2 pounds ground beef
2 cans (10 3/4 ounces each) condensed tomato soup, undiluted
1 teaspoon onion salt
2 cups (8 ounces) shredded cheddar cheese
8 Hamburger buns, split
8 slices cheddar cheese
Directions:
In a large skillet, cook beef over medium heat until no longer pink; drain. Stir in the soup and onion salt; heat through. Stir in shredded cheddar cheese until melted. Spoon about 1/2 cup onto the bottom of each bun. Cut cheese slices with 2 1/2-inch Halloween cookie cutters; place over beef mixture. Serve bun tops on the side. Makes 8 servings. Enjoy! Cheers!