by Roy Barba and Christianna Marks
Cruise Nite has been a huge success from its inception. This is extremely clear from the Atascadero News headline of August 31, 1994, which stated that the second annual event had hundreds of cars cruising and thousands of people viewing. It's wonderful to see how this Atascadero tradition has lived on over the years.
To know the history of Cruise Nite is only possible if one knows the history of the Mid State Cruizers. The club was chartered in 1989 when a group of automotive enthusiasts, united with the common purpose of appreciating and preserving classic vehicles, got together.
advertisement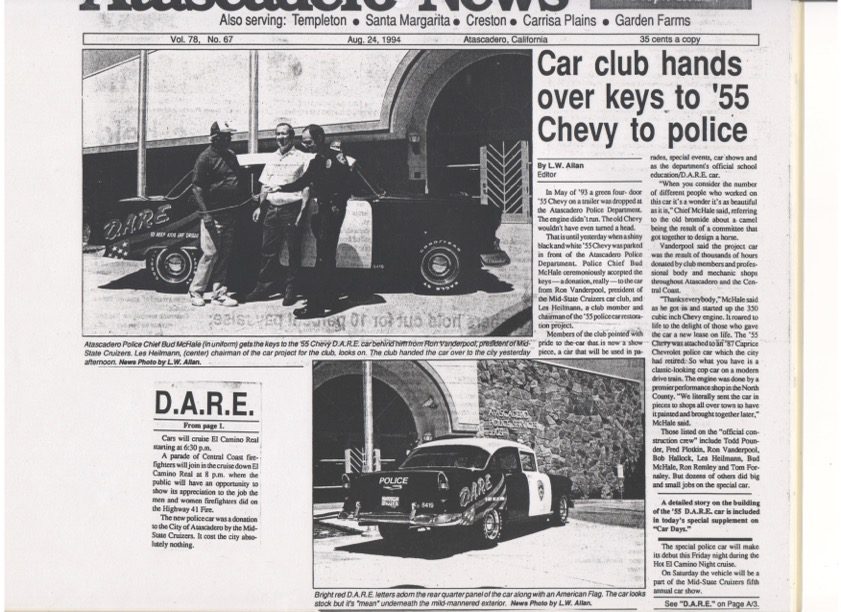 The Cruizers' very first Atascadero Lake Car Show took place on August 25, 1990, and had 80 participants. At that time, the club was actually called Mid State Muscle Cars, but the name quickly changed to Mid State Cruizers as an open invitation to all types of vehicles. From that day on, a variety of vehicles have represented the club's membership, from classics to modern muscle cars and even a 1958 Crown Fire Engine. Don't have a car that falls in any of the categories? The Mid State Cruizers also have members who appreciate classic vehicles but don't own one of their own.
The first Atascadero Cruise Nite was in August 1993 and conceived by the club. It wasn't long before the City of Atascadero took over the responsibilities of organizing the Hot El Camino Cruise Nite, which they still do. The Mid State Cruizers and the City of Atascadero have had a wonderful relationship that makes Cruisin' Weekend such a massive success. The City's Deputy City Manager, Terrie Banish, has been especially instrumental in making things work so smoothly.
While the first years of Cruse Nite were limited to vehicles driving down El Camino Real, the route has been extended to include a loop around Entrada Avenue and Traffic Way.
All these years, the club and the car show have been based on philanthropy. In the beginning, all the profits went towards constructing the Atascadero Lake Park Pavilion.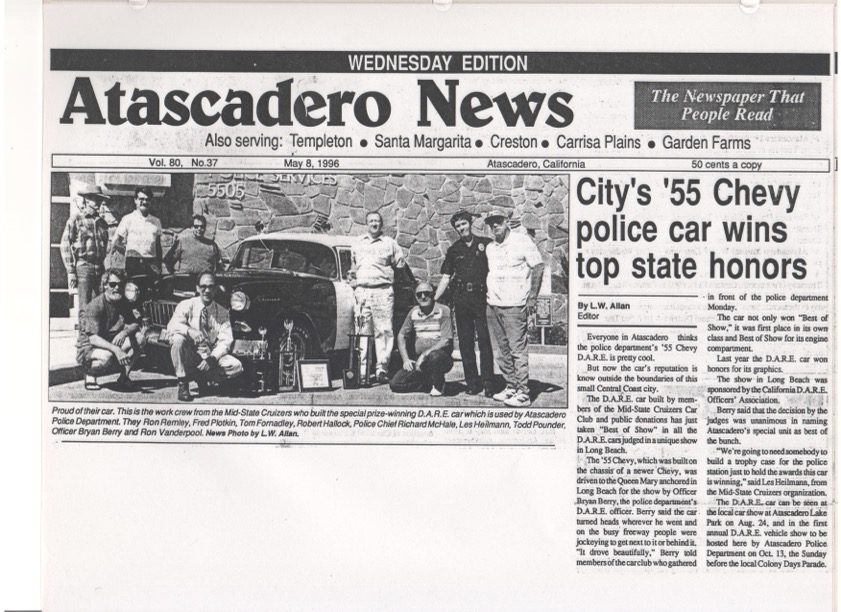 After that, the Mid State Cruizers constructed the Atascadero Police D.A.R.E. Car, which was presented to the department by the club in 1994. The car went on to win multiple top state and national awards. Les Heilmann was the driving force behind this project and took a 1955 Chevrolet and attached it to a 1987 Caprice police cruiser, putting a classic car on a more modern drivetrain. The specialty vehicle continues to be in use and was present at last year's car show as a tribute to Les, who passed away last year. Other members listed in the cruiser's construction crew included Todd Pounder, Fred Plotkin, Bud McHale (then Chief), Ron Remley, Tom Fornaley, and many others.
Another effort the club took part in was lighting in Atascadero Lake Park. In 1997 the Mid State Cruizers donated $3,500 to fund the first light post installed in the park, and there's even a plaque on lamp #1 honoring the club's support to the community.
More recently, all of the club's profits have been directed to local charities. Last year they donated a total of $10,000 to 10 local charities, $1,000 to each. They're hoping to match or surpass that amount this year.
Over the years, most aspects of the car show have stayed the same. This year's Mid State Cruizer's 32nd Annual Lake Park Car Show expects 200 vehicles with food vendors, artists, jewelry, military nonprofits, face painting, and more for everyone to enjoy. There will also be an ongoing day-long raffle where many great prizes will be awarded, and their Primo Raffle, where you can try to win a specific special prize such as a barbecue or a case of wine, etc. Plus, there is the cash prize drawing.
Of course, the main attraction will be the magnificent cars that participants enter, which show off the beauty and workmanship that goes into preserving these pieces of history. All profits from the show go to local charities, as stated in the club's by-laws, carrying on the tradition of helping the community. Anyone interested in participating in this year's show can go to midstatecruizers.org to register.
A huge thank you goes out to past presidents Duane Powell and Larry Wilson, past vice president Dave Evers and a wonderful assortment of newspaper articles from the past memorialized by Les, Duane, and other club members. This assistance was extremely helpful to current president Roy Barba in providing information for this article.
The 32nd Annual Lake Park Car Show on Saturday, August 19, takes place from 10 a.m. to 4 p.m. at Atascadero Lake Park. Hot El Camino Cruise Nite will take place the prior evening, Friday, August 18, from 6:30 to 8:30 p.m., with hundreds of cars and trucks cruising up and down El Camino Real. Following the car show on Saturday night, the Crusin' Weekend will conclude with Dancing in the Streets from 5 to 10 p.m.
ATASCADERO NEWS MAGAZINE
Copies of Atascadero News Magazine are directly delivered to 11,500 readers in zip codes 93422, 93432, and 93453 and 1,500 dropped with support from advertisers and subscribers. Together, we are Making Communities Better Through Print.™
To subscribe or advertise, click here.